Parsis confront threat to existence at Mumbai meeting
The world's tiny but hugely successful Zoroastrian community was to confront a demographic crisis which threatens its very existence when it gathered en masse in its spiritual home of Mumbai over the weekend.
The four-day World Zoroastrian Congress, which started on Friday, brings together followers of one of the world's oldest religions, many of whom are descended from Persians who fled to India to escape persecution more than 1,000 years ago.
Known as the Parsis, this group went on to become one of India's wealthiest communities, closely linked to the rise of financial capital Mumbai. Famed members have included the industrialist Tata family and the late Queen singer Freddie Mercury, the son of Parsi migrants to Zanzibar.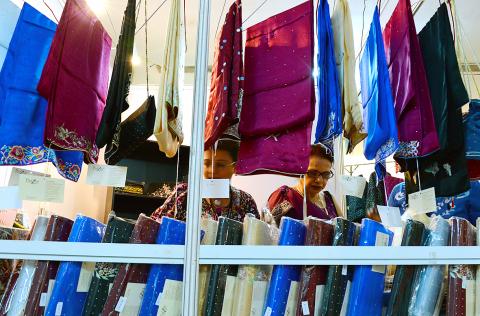 Parsi women check traditional saris and dress materials on sale at the venue of the World Zoroastrian Congress in Mumbai, India, on Friday.
Photo: AFP
However, the population of Parsis is quickly diminishing, with members divided over how best to preserve their religion and culture.
"Demographically there's nothing you can do. It's going down and down and it's eventually going to disappear," said Jehangir Patel, editor of Parsiana, a Mumbai-based magazine for the community.
Zoroastrians believe in one god, Ahura Mazda, and follow the teachings of the ancient Prophet Zoroaster. They worship in fire temples, believing fire to be a symbol of god's purity.
Scattered across countries including Iran, the US and Britain, their estimated numbers have dropped by more than 10 percent between 2004 and last year to fewer than 112,000 people.
In India, where most Zoroastrians live, the numbers have halved since 1940 to about 61,000.
Every year, Mumbai sees about 850 Parsi deaths and about 200 births, with the largely well-educated and well-off group tending to marry late — or not at all — and opting for smaller families, Patel said.
Alarmed by the figures, and despite worries about a boom in the wider population, India's government is about to launch an IVF scheme for the Parsis, who have earned a reputation for good business sense and honesty.
"It's a step in the right direction," said gynecologist Anahita Pandole, who has worked on a similar fertility scheme for Parsis in Mumbai for nearly a decade, and said they often waited until their mid-to-late 30s to have children.
However, some believe more drastic action is needed to boost the traditionally closed community — being a Parsi-Zoroastrian is currently inherited only through the male line.
If a Parsi woman marries a non-Zoroastrian, her children are barred from entering Mumbai's fire temples or the Towers of Silence, where Parsi bodies are laid after death to be consumed by vultures.
"It's basically politics of apartheid. It's discrimination on the basis of race and sex," Patel said.
Traditionalists say the rules are essential to preserve their identity, which combines religion and ethnicity.
The Bombay Parsi Punchayet, the leading Parsi organization, is one of Mumbai's largest landlords with 5,500 apartments offered at subsidized rates exclusively for Parsi-Zoroastrians, discouraging intermarriage.
"We want to increase the number of Parsis and if our community members marry out, in four generations the ethnicity of the community is going to disappear," Punchayet trustee Khojeste Mistree said. "These are the rules of the religious club and you have to follow them. You have every right to opt out of the club and leave."
The Punchayet has banned two priests for performing religious initiations for the children of women who married out, and ceremonies for Zoroastrians who chose to be cremated. A high court quashed the decision and the matter is with India's Supreme Court.
Held every four years, this is the first congress held in Mumbai since 1990. About 1,000 delegates were expected to attend the event at the National Sports Club of India.
The event however was nearly canceled at one stage due to in-fighting in the Punchayet over funds which are alleged to have gone missing, reflecting the tensions within the community.
"I think people are very disenchanted, very upset with the functioning of the Punchayet," Patel said.
The theme of the congress is "Nurturing Growth and Affirming Identity," while the agenda includes panel discussions entitled "Demography and Way Forward: Issues of Fertility and Solutions" and "The Zoroastrian World — a Demographic Picture."
Benafsha Shroff, a US-born Zoroastrian who moved to Mumbai two years ago, said the younger generation were increasingly indifferent to controversies facing the community, and preferred to use Parsi gatherings for socializing.
The 26-year-old said many were turned off by the "hype" over the falling population — "it makes them feel they're just another number," she said.
Schemes to encourage young Zoroastrian couples have included Parsi pin-up calendars, speed-dating nights and other social events "to bring our boys and girls together," said Mistree. Shroff, a proud and practising Zoroastrian, said she would like to marry within the fold, but explained that it was hard for women to find a partner when Parsi men could marry out and remain part of the community.
"Women see it as a sacrifice, while men feel they can be accommodated," she said.
Comments will be moderated. Keep comments relevant to the article. Remarks containing abusive and obscene language, personal attacks of any kind or promotion will be removed and the user banned. Final decision will be at the discretion of the Taipei Times.