Beijing tones down Mao festivities
UNDERSTATED: The official commemorations of the former Chinese leader's birthday were markedly simple, while no mention was made of the atrocities he impelled
China's leaders bowed three times before a statue of former Chinese leader Mao Zedong (毛澤東) on the 120th anniversary of his birth yesterday, in carefully controlled celebrations that also sought to uphold the market-style reforms that he would have opposed.
The approach underscores the delicate balancing act the Chinese Communist Party (CCP) leadership — installed last year — has to perform in managing perceptions of Mao's legacy.
As heirs of the authoritarian one-party political system imposed by Mao and his party comrades, the current leadership has a strong interest in venerating his memory in a bid to bolster their own legitimacy. However, they have also pledged to undertake market reforms needed to rejuvenate a slowing economy, measures that would have been anathema to Mao.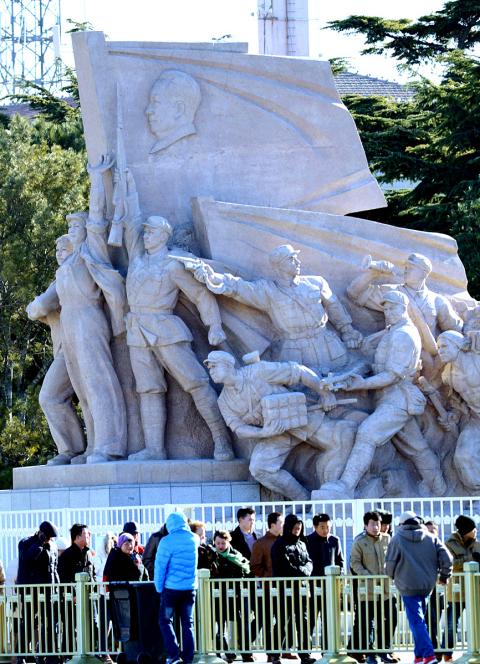 Visitors queue up outside the Mao Zedong mausoleum in Beijing, China, to wait their turns to see his preserved corpse on Wednesday.
Photo: AFP
Chinese President and CCP General Secretary Xi Jinping (習近平) and other top leaders paid tribute to the founder of the communist state with a visit to his mausoleum on Tiananmen Square in the heart of the capital, Beijing, the official Xinhua news agency said.
The leaders "revered" Mao's embalmed body which lies in state in the mausoleum and "jointly recalled the glorious achievements of comrade Mao Zedong," Xinhua reported.
In a sign of the relatively understated approach the party is taking with the anniversary, there was no mention of Mao's birthday on the front page of the party's flagship People's Daily.
On page seven, though, the paper hailed Mao as a brilliant "proletarian revolutionary, strategist and theorist," in a full-page commentary. However, it was accompanied by an editorial that said the "best commemoration" of Mao would be to keep advancing economic reforms that were launched by his successor.
Censors appeared to be busy scrubbing criticism of Mao off China's social media sites, with messages that questioned his legacy disappearing within minutes of being posted. The views of liberal commentators and intellectuals were still circulating widely on a popular smartphone messaging app, WeChat.
"Speaking of Mao's legacy, it at least includes: The silencing of public opinion, a regime that will never be elected, the harmonious cooperation of the three powers of government and the creation of a production line of wrongful convictions," ex-government adviser Bao Tong (鮑彤) wrote in a recent essay that was being shared on WeChat.
"Of which the most important is undoubtedly power that leads everything," Bao wrote. "With it, one can possess the manpower and fighting strength of hundreds of millions."
Under Mao's leadership, China lurched between industrialization drives and violent political campaigns that left tens of millions dead before he died in 1976 and his successors began their free-market experiments.
The official commemorations have avoided specific discussion of Mao's central role in China's worst post-war tragedies: the Great Leap Forward and Cultural Revolution, in which millions died from starvation and persecution. The People's Daily said only that the party regarded Mao's mistakes in his later years as those made by a "remarkable revolutionary and Marxist."
Comments will be moderated. Keep comments relevant to the article. Remarks containing abusive and obscene language, personal attacks of any kind or promotion will be removed and the user banned. Final decision will be at the discretion of the Taipei Times.