Turkey PM vows to go after rivals over graft probe
FAST-MOVING SAGA: So far, twenty-four people have been charged in connection with the mass corruption investigation, including the sons of high-ranking officials
Turkish Prime Minister Recep Tayyip Erdogan on Sunday warned his rivals he would "break their hands" if they used a widening graft scandal to undermine his rule, as thousands of angry protesters called for the government's resignation.
"Everyone will know their place," Erdogan told cheering supporters of his ruling Justice and Development Party (AKP) in his latest combative response to a high-profile probe into bribery and corruption allegations that has ensnared Cabinet ministers.
"Whoever dares to harm, stir up or set traps in this country, we will come to break those hands," Erdogan said in a speech in the Black Sea province of Giresun.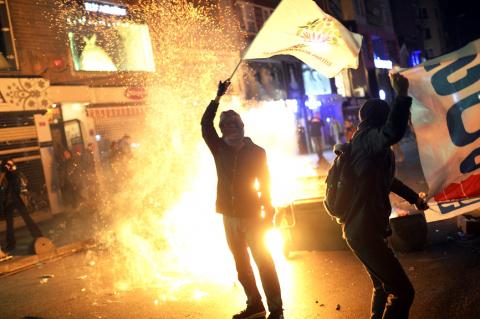 A man waves a flag next to a barricade set on fire as protestors clash with Turkish police during a demonstration in the Asian side of Istanbul on Sunday.
Photo: AFP
His heated remarks came as riot police fired tear gas and water cannon to disperse several thousand demonstrators in Istanbul calling on the AKP government to step down.
Many were protesting against grand urban development projects, but some symbolically held up shoe boxes to show their fury over recent claims of widespread bribery by members of Erdogan's Islamic-leaning government.
In a further sign of growing public anger, Galatasaray soccer fans in Istanbul chanted: "Everywhere is bribery, everywhere is corruption" at the start of a home game against Trabzonspor.
The words were a deliberate play on a chant that was often heard during the huge anti-government protests that took over Istanbul's Taksim Square in June: "Everywhere is Taksim, everywhere is resistance."
The high-level graft probe has shaken Turkey's political establishment, exposing a bitter feud between the AKP and influential Muslim academic Fethullah Gulen whose followers hold key positions in the police, judiciary and secret services.
Twenty-four people have been charged so far in connection with the investigation, including the sons of Turkish Minister of the Interior Muammer Guler and Turkish Economy Minister Zafer Caglayan, as well as the chief executive of state-owned Halkbank.
Police also seized US$4.5 million in cash hidden in shoe boxes in Halkbank chief executive officer Suleyman Aslan's home, local media reported on Tuesday last week.
Those detained are suspected of numerous offences including accepting and facilitating bribes for development projects and securing construction permits for protected areas in exchange for money.
Erdogan has described the sweeping corruption probe, which comes ahead of crucial March municipal polls, as a smear operation against his government.
A day after their sons were charged with acting as intermediaries for giving and taking bribes, the interior and economy ministers broke their silence to deny the accusations.
"It is out of the question for us to be involved in any unlawful affairs," Guler wrote on Twitter on Sunday, while Caglayan railed against a "big trap" set for the AKP government.
Observers have linked last week's police raids targeting scores of people to tensions between Erdogan and followers of the Gulen movement which boiled over when the government announced plans to shut down a network of private schools run by the Islamic cleric, a major source of revenue for the group.
Gulenists were previously key backers of the AKP, helping it to win three elections in a row since it first took office in 2002.
Erdogan has responded to the mass detentions by sacking dozens of police officials, including the Istanbul police chief, for cooperating with the investigation without permission.
Local media reported on Sunday that another 25 police chiefs had been fired in the fast-moving saga.
The prime minister, whose image was already bruised by June's anti-government unrest, is facing a key test as the country braces for an election cycle next year starting with the local polls in March.
"The nation will win on March 30, democracy will win," he said. "We will emerge stronger as long as we remain united."
Comments will be moderated. Keep comments relevant to the article. Remarks containing abusive and obscene language, personal attacks of any kind or promotion will be removed and the user banned. Final decision will be at the discretion of the Taipei Times.