More gunfire reported in South Sudanese capital
Fresh gunfire rang out in South Sudan's capital early yesterday, a day after the president announced he had defeated a coup attempt in the world's youngest nation, a reporter said.
The gunfire — including the sporadic firing of heavy weapons — resumed in the early hours yesterday and was still audible at 9am. It appeared to come from a military headquarters, a few kilometers from the center of town.
South Sudanese Foreign Minister Barnaba Marial Benjamin told The Associated Press that there was renewed fighting in Juba overnight as the military "cleared out remnants" of a faction of soldiers accused of mounting a coup.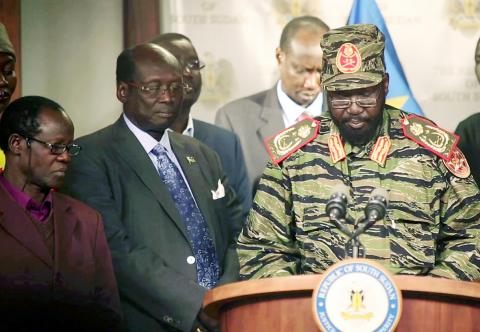 South Sudanese President Salva Kiir, flanked by government ministers, speaks at a news conference at the Presidential Palace in Juba on Monday.
Photo: Reuters
Benjamin said the military had arrested five political leaders with suspected links to the failed plot, but that more were yet to be traced. He said the alleged coup plotter, former South Sudanese vice president Riek Machar, is in hiding.
The streets of the capital were deserted, with only military vehicles to be seen and civilians barricaded in their homes.
South Sudanese Minister of Cabinet Affairs Martin Elia Lomuro said that at least 12 people had died in the fighting, which began shortly before midnight on Sunday.
"At least 12 people died in the fighting," Lomuro told local radio Eye, adding that many of the dead were soldiers.
Other radio stations in the capital reported at least 130 wounded had been admitted to hospital.
South Sudanese President Salva Kiir has blamed troops loyal to Machar, who was sacked from the government in July, for starting the fighting.
Kiir said on Monday that his troops were "in full control of the security situation in Juba."
Oil-rich but impoverished South Sudan won its independence in 2011 after its people voted overwhelmingly in a referendum to split from the north and form a new nation, but the country has struggled with ethnic violence and corruption, and political tensions have worsened in recent weeks between rival factions within the ruling party, the Sudan People's Liberation Movement (SPLM).
Machar leads a dissident group within the SPLM and had been seen as the main challenger to Kiir. They hail from different ethnic groups and had in the past fought on different sides during Sudan's civil war.
Additional reporting by AP
Comments will be moderated. Keep comments relevant to the article. Remarks containing abusive and obscene language, personal attacks of any kind or promotion will be removed and the user banned. Final decision will be at the discretion of the Taipei Times.