Jordanian reporter recovering after his kidnap ordeal in southern Philippines
ESCAPE? Police on Jolo island said it was not clear whether veteran reporter Bakr Atyani, who works for al-Arabiya, was freed or had escaped on his own
An emaciated Jordanian TV reporter held captive by militants in the restive southern Philippines for 18 months was recovering in hospital yesterday after he was found wandering along a jungle road.
Looking gaunt and haggard, with his cheeks hollowed out, Bakr Atyani was being treated for elevated blood pressure on Jolo island a day after he was discovered by police, provincial police spokesman chief inspector Chris Gutierrez said.
"He had lost a lot of weight, from his weight of about 85 kilos before he was taken to 55 kilos," Gutierrez said. "He is weak, but he can stand up and walk around without needing any assistance."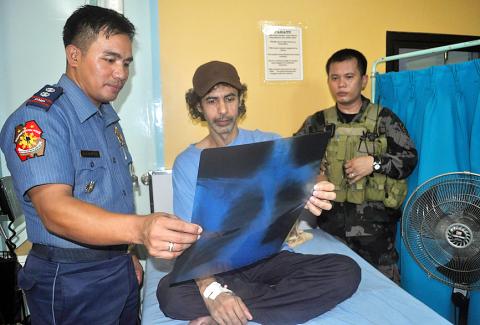 Jordanian TV journalist Bakr Atyani, center, looks at the results of his X-ray next to Philippine policemen while resting at a hospital in Jolo, Philippines, yesterday.
Photo: AFP
Gutierrez said that police saw Atyani wandering on Jolo in a remote jungle-clad area that is infested by Abu Sayyaf militants.
"After we confirmed his identity we took him to a hospital. He was apprehensive at first, but we introduced ourselves as police and [Atyani] lightened up when he realized he was safe," Gutierrez said.
The Dubai-based broadcaster al-Arabiya said in a statement on Wednesday that Atyani was handed over to Filipino authorities by the kidnappers, but the police account contradicted that.
The circumstances surrounding Atyani's freedom remained murky, and Gutierrez could not say categorically whether he had escaped from his captors or was freed.
"We are keeping him here for the meantime while he is recovering and while he is being debriefed," he said.
Previous kidnapping cases involving the Abu Sayyaf have involved large ransom payoffs, which local authorities euphemistically call payments for "board and lodging."
Military and police sources had previously said the Abu Sayyaf had demanded millions in dollars in ransom, though neither Atyani's family nor employer would confirm this. Atyani is the Southeast Asia bureau chief of al-Arabiya News Network. The veteran journalist gained fame for interviewing former al-Qaeda leader Osama bin Laden months before the Sept. 11, 2001, attacks.
He hired two Filipino crew members and went to Jolo in June last year to interview Abu Sayyaf leaders, but they were instead taken hostage.
The Filipinos were freed in February and said no money had changed hands. They said they were separated from the Jordanian five days into their captivity.
Jolo, more than 1,000km south of Manila, is a stronghold of the Abu Sayyaf, which has been blamed for the country's worst terror attacks, including bombings and abductions of foreigners and missionaries.
Comments will be moderated. Keep comments relevant to the article. Remarks containing abusive and obscene language, personal attacks of any kind or promotion will be removed and the user banned. Final decision will be at the discretion of the Taipei Times.