FEATURE: Pablo Escobar casts shadow over Medellin 20 years after death
Two decades after his death, Pablo Escobar still casts a long shadow over the Colombian city that witnessed his blood-soaked rise to become one of the most feared druglords in history.
Murderous sociopath or benevolent Robin Hood? Many in Medellin remain outraged at the scale and ferocity of his crimes, while others remember him fondly for his lavish handouts.
Escobar "is the most alive dead guy in Colombia — because he is still with us in drug gangs and traffickers to this day," said Cesar Cuartas, a resident of Medellin's Comuna 1 hardscrabble hillside neighborhood.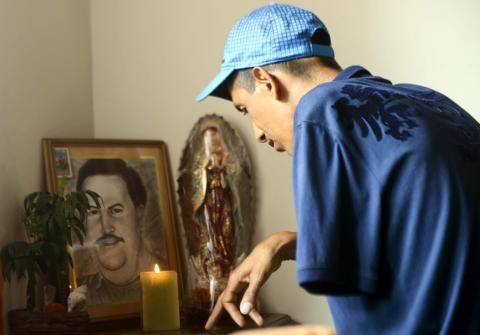 Wberney Zabala, a resident of the Pablo Escobar neighborhood, prays at his house in Medellin, Colombia, on Nov. 24.
Photo: AFP
"Escobar simply has so many victims. And that pain is also very much alive, something that has not been fixed," said Luis Alirio Call, a reporter who was present when Escobar turned himself in in 1991.
The Medellin cartel founder, Escobar was famed for some of the bloodiest, most ruthless organized crime dealings, like the cartel's plata o plomo policy on the street ("take a payoff, or you are dead.")
As he rose to billionaire drug lord status in the 1980s, he courted deep-rooted support by lavishing financial and infrastructure help on poor neighborhoods where government services never managed to reach.
The son of a farmer and schoolteacher, Escobar grew up in a modest part of Medellin. He came to revel in the Robin Hood element of his fame; about 25,000 people, mostly residents of Medellin's poorest districts, thronged Escobar's funeral.
After being detained in a deluxe personal jail, complete with jacuzzi, Escobar again went on the run in 1992 after suggestions he should be sent to a regular jail.
After a costly Colombian-US operation lasting more than a year, Escobar was located living secretly in a middle-class area of Medellin.
Police pursued him and a firefight ensued in December 1993. He was shot several times, including once in the ear. It is not known who fired the shot that killed Escobar.
His family says he chose to take his own life rather than face uncertainty or potential extradition to the US.
The Medellin Cartel was founded in part to have a larger organization push for Colombia to revoke its 1979 extradition treaty with Washington.
Escobar's life was full of strange twists and contradictions. It has inspired a painting by his countryman Fernando Botero, a slew of movies and a new film in the pipeline from US director Oliver Stone.
Though he built an empire on the back of cocaine, Escobar went around poor neighborhoods in Colombia preaching against drug use. And he even scolded his underlings for dabbling in drugs. He could be wildly superstitious outside traditional Catholic beliefs, yet said he was deeply devoted to the Holy Child of Atocha, the same man whose empire may have taken thousands of lives.
Escobar had enough popular support to win in politics despite his reputation.
In 1982 he was elected as an alternate congressman. The fun did not last; then-Colombian justice minister Rodrigo Lara charged him with illicit activities, and Lara later was killed by his hitmen.
The same man whose empire was behind countless killings bankrolled development in Medellin's poorest neighborhoods.
Luz Mary Arias, 57, used to make her living picking items to recycle from a garbage dump where she lived. Then Escobar gave her the small home she calls her own.
"I admire him like a Robin Hood," she said, cradling a souvenir statuette of Escobar in Robin Hood costume, after all these years.
Comments will be moderated. Keep comments relevant to the article. Remarks containing abusive and obscene language, personal attacks of any kind or promotion will be removed and the user banned. Final decision will be at the discretion of the Taipei Times.