FEATURE: Distrust festers in Tiananmen attackers' home town
A Han Chinese emigrant to Hotan, the distant home town of "terrorists" behind a deadly attack in Beijing's Tiananmen Square, eases his fears of his Muslim Uighur neighbors quite simply — he bans them from his restaurant.
"We're afraid if Uighurs come in, they will hurt the other customers," said the man, who only gave his surname as Hou.
"Every week, somebody gets killed," he added, sitting by the cash register and ticking off victims, most recently a young woman knifed to death.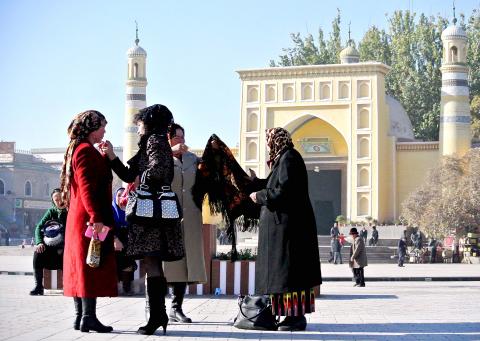 A group of Uighur women meet outside a mosque in Kashgar in China's Xinjiang region on Nov. 8.
Photo: AFP
Fear and distrust fester in Hotan, a dusty tree-lined city in China's far western Xinjiang region, home to the mainly Muslim Uighur ethnic group, and where racial friction has sharpened after decades of inward Han migration and economic expansion, with sporadic Uighur violence prompting heavy-handed responses by the Han-led government.
Many Xinjiang residents said the vicious cycle worsened after Uighur-Han clashes in 2009 in the regional capital Urumqi left about 200 people dead.
In last month's attack in Beijing — the first blamed on Uighurs outside Xinjiang — three family members crashed a car and set it alight, killing themselves and two tourists in Tiananmen Square, the symbolic heart of the Chinese state.
All eight people behind the "terrorist attack" came from Hotan, state media said, citing police. The city's 2 million population is 96 percent Uighur.
Hou, who moved from Sichuan Province more than a decade ago, accused Uighurs of "ethnic separatism" and rejected claims of discrimination as an effort to shift blame.
China has sought for centuries to control Xinjiang, which means "new frontier," in contrast to the neidi heartland of the center and east coast.
When the Chinese Communist Party took power in 1949, it sought to secure and develop the resource-rich area by launching a military-led program of settlement by the Han, who make up more than 90 percent of China's people.
Xinjiang's Han population grew from 6 percent in 1949 to 38 percent in 2011, not counting part-time residents.
Economic growth galloped ahead and in the first nine months of this year stood at 10.8 percent, the ninth-highest rate in the country.
However, Uighurs complain the boom benefits the Han, while they face discrimination or disadvantages, such as limited Mandarin or poor connections to the neidi-based state-owned giants that drive jobs and investment.
"Part of it is about discrimination, part of it is about recruitment, part of it is about finances," said Gardner Bovingdon, a Xinjiang expert at Indiana University Bloomington.
Economic incentives to open businesses and do other work "have been specifically used to draw migration," he said.
Hotan's central plaza, Unity Square, commemorates Beijing's dominance with a statue of a poor Uighur called Uncle Kurban expressing gratitude in the 1950s to late Chinese leader Mao Zedong (毛澤東).
A few Han strolling by warned against going to Uighur areas outside the city center, while others around town said they stayed home at night and rarely interacted with Uighurs.
Asked if he felt safe, a 46-year-old man surnamed Jia who came a few months earlier for work, responded: "At the end of the day, this is an ethnic minority place."
Uighurs are also wary of the Han, with a hospital worker saying Han storekeepers ignored him and a businessman claiming they stereotyped Uighurs as murderers.
"We are fine with them, but they are not very nice to us," the hospital worker said. "It seems like they just look down on us, not that they are afraid."
Police vehicles roamed the city streets and armed guards wearing camouflage stood watch at Unity Square, road intersections, a bank and a school.
Several Uighurs complained about police abuse, while the Han felt the patrols made them safer.
"The police have to be tough, but when they beat people and raid their homes for no reason, this makes us angry," a Uighur woman said. "They punish those who don't deserve it and don't punish those who do."
In parts, the two ethnic groups do mingle, with a Uighur cook serving steaming lamb skewers to Han families at a street stand at dusk.
Some said newly arrived Han were more distrustful.
"The Han who came recently don't like Uighurs and Uighurs don't like them, but those who came a long time ago — up to the 1980s and 1990s — they think Uighurs are great," said a Uighur driver working for a Han neighbor he has known since childhood.
At a Uighur bazaar outside town, shoppers streamed past donkey-drawn carts and stalls piled with fabric, boots and watermelon, while sheep traders chatted wedged between their flocks.
The few Han browsing were old-timers in the region.
"Things happen everywhere, even in the neidi," a middle-aged woman born in the city said. "Han people, wherever we live, we adapt."
Comments will be moderated. Keep comments relevant to the article. Remarks containing abusive and obscene language, personal attacks of any kind or promotion will be removed and the user banned. Final decision will be at the discretion of the Taipei Times.