Ex-party leader to serve jail term: Brazil
'INDIGNANT': The former chairman of Brazil's Workers' Party was sentenced to prison for orchestrating a vast vote-buying scheme benefiting party lawmakers
The former chairman of Brazil's ruling Workers' Party surrendered to police on Friday after a court ruled that those convicted in a corruption scandal should serve their terms immediately.
Jose Genoino was one of 25 party associates linked to the 2005 "Mensalao" kickbacks scandal, which reached the highest echelons of the party of then-Brazilian president Luiz Inacio Lula da Silva.
Genoino turned himself in following a landmark judgment on Wednesday by Brazil's Supreme Court which upheld more than a dozen jail terms handed down in the scandal after a trial last year.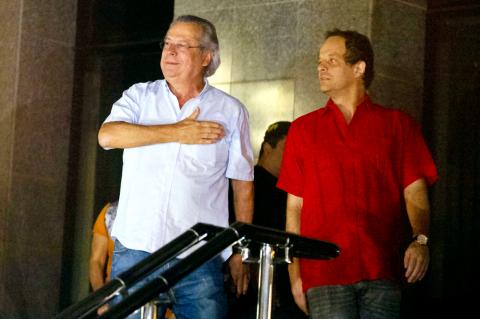 Jose Dirceu, left, former chief of staff of former Brazilian president Luiz Inacio Lula da Silva, arrives at the headquarters of the Federal Police in Sao Paulo, Brazil, on Friday.
Photo: AFP
Brazilian news broadcasters showed him leaving his house accompanied by his wife.
He did not speak, but published a letter on his Web site saying he was "indignant — and I reiterate I am innocent; I have not committed any crime."
"There is no proof for what they are accusing me of," Genoino said, insisting he had been a victim of a media-driven witch hunt because of his position in the party.
"I consider myself a political prisoner," he said.
The court has ordered the arrest of 12 of the 25 accused. Of these, nine have voluntarily surrendered to the police so far.
Several figures who recently wielded considerable political influence, including Genoino and Lula's former chief of staff Jose Dirceu, face detention under a semi-open regime, allowing day release, but requiring him to spend nights in the cells.
Dirceu was sentenced to seven years and 11 months in prison for corruption for orchestrating a vast vote-buying scheme benefiting party lawmakers during Lula's first term in power between 2003 and 2006.
Dirceu faces further charges next year, and if his total sentence surpasses eight years, he could be required to remain in jail around the clock.
"I shall keep fighting to prove my innocence and to have this spurious sentence annulled," he said in the statement published by the Folha de Sao Paulo.
Former party treasurer Delubio Soares also faces time behind bars.
Kickbacks allegedly distributed to opposition lawmakers to back government bills led to the scandal being dubbed Mensalao or monthly allowance.
The court had revisited Brazil's biggest ever anti-corruption investigation after a September judgment allowed sentencing appeals by 12 of the 25 former Lula party associates.
The group won a temporary reprieve when the court initially ruled that despite being found guilty in December last year, they were entitled to a new trial after obtaining at least four votes on the court panel against their original convictions.
That judgment sparked popular anger amid fears they would benefit from reduced prison sentences for convictions on criminal conspiracy and money laundering charges.
Already facing jail time is former Bank of Brazil marketing director Henrique Pizzolato, who has been given a 12-year, seven-month term.
While the image of his administration has suffered a grievous blow, Lula himself denied any wrongdoing. He was reelected in 2006 and left office in 2010 still enjoying high popularity ratings.
Comments will be moderated. Keep comments relevant to the article. Remarks containing abusive and obscene language, personal attacks of any kind or promotion will be removed and the user banned. Final decision will be at the discretion of the Taipei Times.