Evacuation credited for lower cyclone casualties
WELL PREPARED: Early counts report that up to seven people have died and if not for the mobilization of about 1 million people, there might have been more
Cyclone Phailin ripped through India's east coast leaving a trail of destruction yesterday and up to seven people dead after one of the biggest evacuations in India's history to minimize casualties.
As emergency teams began assessing the damage from the country's worst cyclone in 14 years, a massive relief effort came into full swing to distribute food, clear roads and help the injured.
The worst affected area, the town of Gopalpur in Odisha — where the eye of Phailin came ashore packing winds of 200kph — remained cut off with emergency services rushing to reach it.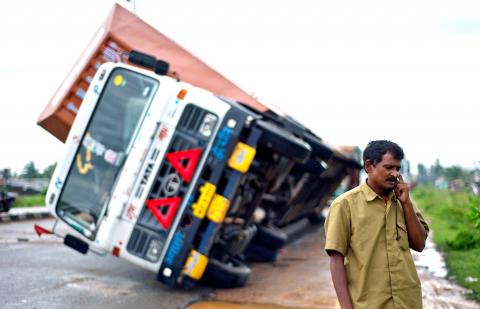 Driver Jairam Yadav speaks on his mobile phone after his truck was overturned by strong wind on the National Highway linking Andhra Pradesh and Odisha in India, yesterday. Cyclone Phailin left a trail of destruction along the east coast.
Photo: AFP
Elsewhere, roofs were blown off, trees fell across roads and debris was strewn over the streets of state capital Bhubaneswar where the winds had died down and heavy overnight rainfall had ceased.
"Our teams have fanned out on the ground, they are running searches, trying to check if there have been any casualties, check the extent of the damage," said Sandeep Rai Rathore, inspector general of the Indian army's National Disaster Response Force.
Odisha state relief commissioner Pradipta Kumar Mohapatra said that three people had been confirmed dead, while other estimates put the toll at seven.
"We almost cleared out the danger zone. In the end, we cleared more than 8.61 lakh [861,000] people. It might be India's biggest evacuation ever," Mohapatra added.
With another 100,000 people in neighboring Andhra Pradesh evacuated on Saturday, the total figure is likely to be more than 1 million. Local member of parliament for Odisha Jay Panda told local television that seven people had been killed.
"Casualties figures will change as information comes in from remote parts; there are quite a few places which are cut off from communications," he told NDTV television.
The number of dead appeared to be "significantly lower than what it could have been" because of the mobilization of emergency efforts before the storm stuck, he said.
The Indian weather office said that Cyclone Phailin had weakened significantly after it moved inland, but warned it still posed a danger, particularly from flooding.
"The cyclone appears to be weakening. As of 5:30am, we recorded wind speeds of about 130 to 140kph," senior scientist from the Indian Meteorological Department M. Mohapatra said in New Delhi.
Initial reports suggested Phailin had been less destructive than a more powerful storm in 1999, which hit the same coastal area — a region populated by fishermen and small-scale farmers who live in flimsy huts with thatched roofs or shanties.
A government report on the 1999 disaster put the death toll at 8,243, and said 445,000 livestock perished.
Authorities have said they were better prepared this time. The Odisha government had set itself a "zero casualty target" in the state of close to 40 million people.
"No one was prepared for the storm in 1999, but this time the government declared an emergency," telecoms worker Rajiv Baral said as he bought emergency supplies in Bhubaneswar on Saturday. "Because of that, we've been getting ready for it for two to three days."
Some of the deadliest storms in history have formed in the Bay of Bengal, including one in 1970 that killed hundreds of thousands of people in modern-day Bangladesh.
Comments will be moderated. Keep comments relevant to the article. Remarks containing abusive and obscene language, personal attacks of any kind or promotion will be removed and the user banned. Final decision will be at the discretion of the Taipei Times.