Specter of US default looms at summit
DEBT MOUNTAIN: US Congress must agree to raise the borrowing limit by Oct. 17 or risk a default on sovereign debt, of which Beijing held US$1.277 trillion as of July
The US sought to reassure Asian leaders gathered for an annual summit yesterday that Washington would resolve its political stalemate, after China voiced concern over a possible US debt default.
The specter of a calamitous default has emerged as a major issue at the Asian summit in Brunei, held in the absence of US President Barack Obama after he was forced to stay home due to the US government shutdown.
With Asian countries such as China sitting atop a mountain of US Treasury bonds, Chinese Premier Li Keqiang (李克強) expressed "Beijing's concern about Washington's debt-ceiling problem."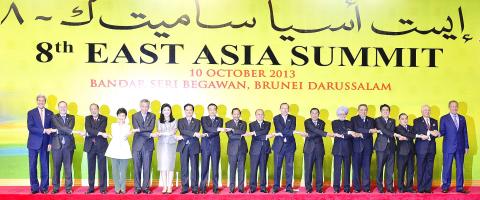 Attendees link hands in a "family" photograph before the Eighth East Asia Summit in Bandar Seri Begawan, Brunei, yesterday. Pictured left to right are US Secretary of State John Kerry, New Zealand Prime Minister John Key, Philippine President Benigno Aquino III, South Korean President Park Geun-hye, Singaporean Prime Minister Lee Hsien Loong, Thai Prime Minister Yingluck Shinawatra, Vietnamese Prime Minister Nguyen Tan Dung, Chinese Premier Li Keqiang, Sultan of Brunei Hassanal Bolkiah, Burmese President Thein Sein, Australian Prime Minister Tony Abbott, Cambodian Prime Minister Hun Sen, Indian Prime Minister Manmohan Singh, Indonesian President Susilo Bambang Yudhoyono, Japanese Prime Minister Shinzo Abe, Laotian Prime Minister Thongsing Thammavong, Malaysian Prime Minister Najib Razak and Russian Foreign Minister Sergey Lavrov.
Photo: Reuters
Li conveyed that message in talks with Obama's stand-in, US Secretary of State John Kerry, late on Wednesday in Brunei, Xinhua news agency reported.
A US official traveling with Kerry confirmed yesterday that the debt ceiling was discussed, but downplayed Beijing's concerns, saying Li had vowed continued investment in the world's largest economy.
"Secretary Kerry made clear that this is a moment in Washington politics and reaffirmed the president's commitment to resolving the issue," the official told reporters. "They also agreed that the United States has one of the strongest economies in the world and that they have a shared interest in continuing the close economic working relationship."
China held US$1.277 trillion in US debt as of July, according to US Department of the Treasury figures.
Kerry and Li joined 16 other world leaders in Brunei yesterday for the East Asia Summit — the climax of nearly a week of top-level meetings which began in Bali at the APEC forum's annual gathering.
As he did in Bali, Kerry sought to assure Asian leaders in Brunei that Obama's no-show did not signal wavering US interest in the region.
He stressed Washington's "continued commitment to the region" and offered verbal support to allies wary of China's territorial ambitions, according to a copy of his address to the summit.
The crippling budget standoff in Washington forced Obama to cancel a visit to Asia where he had hoped to tout his "pivot" toward the region at the back-to-back summits.
Apart from reaching a budget deal to end a US government shutdown, US Congress must agree by Oct. 17 to raise the US$16.7 trillion US borrowing limit — or risk a default on sovereign debt.
Failure to do so could see the US default on its obligations for the first time in its history and spark what the White House warns would be dire global economic consequences.
Emerging economies — which have already borne the brunt of recent market upheavals over the expected tapering of US monetary stimulus measures — are particularly anxious to see a breakthrough.
"[If] the world's biggest economy turns belly-up, how can you actually protect yourself, but I don't think that will happen," Philippine President Benigno Aquino III told reporters.
Philippine Finance Secretary Cesar Purisima termed a default the "unthinkable," adding that Manila was girding for it by taking steps to keep Philippine liquidity flexible.
With Obama absent from the Asia summits, China has been free to wield its growing diplomatic and economic clout in the region.
Li offered an olive branch on Wednesday to Southeast Asian nations wary of its territorial claims to most of the South China Sea, including waters near the coasts of its neighbors. He called for peace in the South Cina Sea and stepped up China-ASEAN trade.
Comments will be moderated. Keep comments relevant to the article. Remarks containing abusive and obscene language, personal attacks of any kind or promotion will be removed and the user banned. Final decision will be at the discretion of the Taipei Times.