Bomb near Pakistani polio workers kills two, injures dozens
A bomb exploded next to a van carrying security guards tasked with protecting anti-polio drive workers in Pakistan yesterday, killing two people, according to officials.
The attack was the latest incident of violence against the Islamabad and UN-backed effort to eradicate polio in the country.
The bomb killed a police officer and a member of a volunteer peace committee, wounding about 20, said Najeeb ur-Rehman, senior superintendent of police operations for Peshawar District.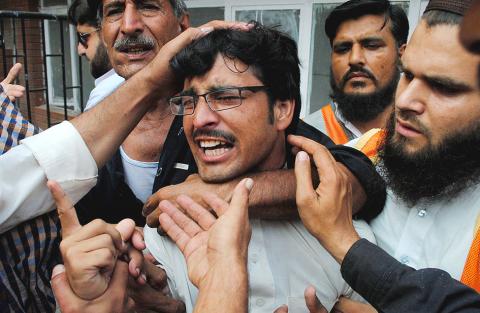 Volunteers comfort a mourner yesterday at a hospital in Peshawar, Pakistan, after a bomb hit a police van protecting a polio vaccination team, killing two people.
Photo: AFP
Police initially reported that six people died, but ur-Rehman said that figure was later revised to two.
The attack happened outside a clinic in Malikhel Willage, about 20km outside Peshawar, the capital of Khyber Pakhtunkhwa Province. The victims were meant to be protecting workers administering anti-polio vaccine to locals.
Eight new cases of polio were reported in the country last week, according to the Global Eradication Initiative.
In 2011, Pakistan had 198 confirmed polio cases, the highest number in the world. It was able to bring that figure down to 58 last year through an aggressive vaccination program, but the success has come at a steep cost.
Militants who oppose the vaccinations often target workers delivering the vaccine and threaten people who want to get their kids vaccinated.
Two powerful Pakistani Taliban militants have banned vaccinators from two tribal regions in the country's northwest, North and South Waziristan, over the past year because of their opposition to US drone strikes.
Militants claim the vaccine is meant to sterilize Muslim children and accuse health workers of being US spies. The allegation gained traction after the CIA used a Pakistani doctor to try to confirm the presence of former al-Qaeda leader Osama bin Laden in 2011 under the guise of an immunization program.
Many suspect the Taliban of carrying out the bombing, although the group has denied the allegation.
Islamist violence has been on the rise in Pakistan, undermining Pakistani Prime Minister Nawaz Sharif's efforts to tame the insurgency with peace talks with the Taliban.
Peshawar has borne the brunt of much of that violence, with the frontier city near the Afghan border hit by at least four attacks that killed scores in the past month.
Comments will be moderated. Keep comments relevant to the article. Remarks containing abusive and obscene language, personal attacks of any kind or promotion will be removed and the user banned. Final decision will be at the discretion of the Taipei Times.