Russia could change Syria view
UNDER WRAPS: The Kremlin chief of staff said he expected the locations of Syria's chemical arsenal to be disclosed within a week, but introduced a note of caution
Russia may change its position on Syria if it sees any "cheating" by the regime, a senior Kremlin official said on Saturday as Damascus disclosed details of its chemical stockpile in the first step of a disarmament plan.
"I am speaking theoretically and hypothetically, but if we become convinced that [Syrian President Bashar] al-Assad is cheating, we can change our position," the Kremlin chief of staff Sergei Ivanov was quoted as saying by Russian news agencies.
He was speaking at a conference in Stockholm organized by the International Institute for Strategic Studies.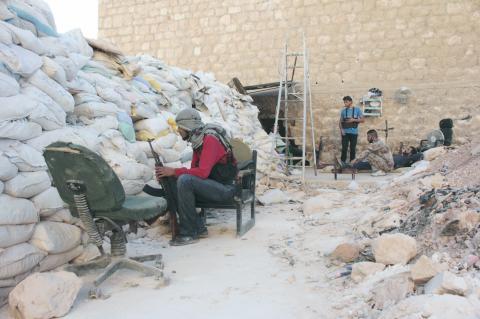 A Free Syrian Army fighter sits behind sandbags on Saturday in the al-Khalidiya area of Aleppo, Syria.
Photo: REUTERS
Ivanov did not clarify his remarks, and reiterated Russia's opposition to intervention in the country wracked by civil war that has killed more than 110,000 in 30 months.
He added that he expects the locations of the Syrian chemical arsenal to be disclosed within a week, but cautioned that the army does not control the entire country.
"We still don't know where the chemical weapons are located geographically. I think this will become clear within a week," Ivanov said.
The US-Russian plan to dismantle the chemical arms stockpile has helped prevent US-led military action following a chemical attack last month that killed hundreds of people and which Washington blames on the regime.
Under the plan, al-Assad's regime had until Saturday to supply details of its arsenal.
On the eve of the disclosure deadline, the Organisation for Prohibition of Chemical Weapons said it "has received an initial disclosure from the Syrian government of its chemical weapons program."
Russia has strongly opposed sanctions or strikes against al-Assad's regime and has said the sarin gas attack on Aug. 21 was likely perpetrated by the rebels.
Russian President Vladimir Putin on Thursday said that he "doesn't know" if Russia can convince al-Assad to destroy his chemical arsenal.
"So far, everything looks as if Syria has completely agreed with our proposal," he said, adding that the regime's actions "inspire confidence."
Meanwhile, in an interview with Russian public television conducted on Wednesday but broadcast on Saturday, Ivanov addressed the discovery of Cyrillic writing on artillery shell fragments photographed by UN weapons inspectors in Syria.
"In effect, they found Cyrillic on a Soviet surface-to-surface missile made between 1950 and 1960," he said.
"At the time Soviet weapons were being shipped to dozens of countries," Ivanov said.
Such missiles "were found in particular in Libya, whose stocks were pillaged during the so-called democratic revolution," Ivanov said.
Comments will be moderated. Keep comments relevant to the article. Remarks containing abusive and obscene language, personal attacks of any kind or promotion will be removed and the user banned. Final decision will be at the discretion of the Taipei Times.