Egypt's Mubarak waves, grins as his trial resumes
FACING ACCUSATIONS: In addition to former Egyptian president Hosni Mubarak, six high-ranking police officials and Egypt's former interior minister are standing trial
An Egyptian judge on Saturday named top security officials to testify in the retrial of former Egyptian president Hosni Mubarak on charges related to the killings of about 900 protesters during the 2011 uprising that led to his ouster.
The 85-year-old longtime autocrat's previous conviction for failing to stop the killings was overturned on appeals earlier this year, leaving still open questions about who ordered the use of deadly force against protesters and who carried out those orders.
The naming of former prison and top intelligence officials in the case appeared to intertwine Mubarak's trial with accusations facing his successor, Mohammed Morsi, who was ousted in a popularly-backed coup on July 3 just one year after his election.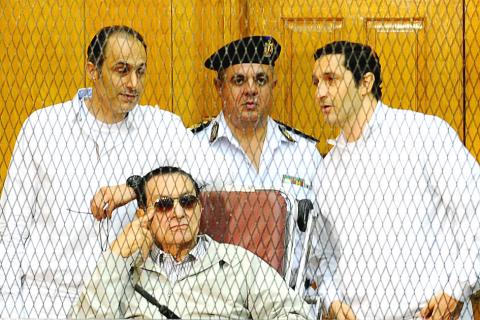 Former Egyptian president Hosni Mubarak, center seated, and his two sons, Gamal, left, and Alaa, stand behind bars during their trial at the Police Academy in Cairo, Egypt, on Saturday.
Photo: AFP
Morsi has been held since at an undisclosed military facility and is being investigated on allegations that he and other Muslim Brotherhood leaders conspired with the Palestinian Hamas group in the neighboring Gaza Strip to escape from prison during the anti-Mubarak uprising.
That allegation was raised again in court on Saturday by defense lawyers who suggested that Hamas militants were behind the attacks on prisons and police stations in the northern Sinai Peninsula, which borders Gaza.
Mubarak, who ruled over the Arab world's most populous country for nearly 30 years, grinned and waved at supporters as he was pushed in his wheelchair into the defendants' courtroom cage on Saturday.
Unlike previous court sessions, in which the former president was lying on a gurney, Mubarak appeared healthier and more confident as he sat upright in what was his second court appearance since his release from a prison hospital last month.
He remains in detention at a military hospital pending corruption charges.
Judge Mahmoud el-Rachidi ordered a media blackout of the next three court sessions scheduled to run from Oct. 19 until Oct. 21, citing national security reasons.
The sessions will include testimonies from ex-police chief Ahmed Gamal Eddin and ex-intelligence czar Murad Muwafi, who was also a governor in Sinai during the 18-day uprising in 2011.
In the first few days of the anti-Mubarak protests, official state media tried to paint the uprising as a foreign conspiracy against Egypt and alleged that Hamas was behind the prison breaks and the killings of protesters to turn people against the regime.
There has never been a definitive accounting of who was behind the prison attacks, which saw more than 20,000 inmates escape as police tried to crush the massive protests that swept Mubarak from power.
In addition to Mubarak, six top police officials and the former interior minister, who oversaw Egypt's feared police for more than a decade, are on trial in the case.
Mubarak's two sons and a business associate — who is being tried in absentia — are facing corruption charges in the same case.
Also on Saturday, former Mubarak political adviser Osama el-Baz died at the age of 82.
Known as the "maestro of Egyptian foreign policy," el-Baz was key in brokering Egypt's peace agreement with Israel in 1979 under then Egyptian president Anwar Sadat and was also sent to lead secretive and sensitive diplomatic missions under Mubarak.
Elsewhere in Egypt, thousands of Brotherhood supporters protested in scattered rallies on Saturday to mark the one-month anniversary of the killing of more than 600 people when security forces cleared out two pro-Morsi sit-ins in Cairo.
The security raids on the encampments sparked days of bloodshed and the interim military-backed government quickly imposed a state of emergency that gives security forces broad powers to arrest. Cairo and other governorates were also put under curfew.
Security officials say the month-long nighttime curfew will likely be extended, but that it will be shorted from seven hours to five. The officials spoke anonymously in line with regulations.
Comments will be moderated. Keep comments relevant to the article. Remarks containing abusive and obscene language, personal attacks of any kind or promotion will be removed and the user banned. Final decision will be at the discretion of the Taipei Times.