Colorado flooding worsens, three dead
RAGING RIVERS: A 73-year-old record for rainfall in September has been shattered this week in the city of Boulder, where the Boulder Creek burst its banks
Flooding that killed at least three people in Colorado, toppling buildings and stranding drivers, worsened overnight on Thursday as record rains pounded the state, forcing thousands more residents to flee to higher ground, officials said.
The unusual late-summer downpours drenched Colorado's biggest urban centers, stretching 210 km along the eastern slopes of the Rocky Mountains from Fort Collins near the Wyoming border south through Boulder, Denver and Colorado Springs.
In Boulder, the rainfall record for September set in 1940 was shattered, officials said, unleashing surging floodwaters in Boulder Canyon above the city that triggered the evacuation of some 4,000 residents late on Thursday.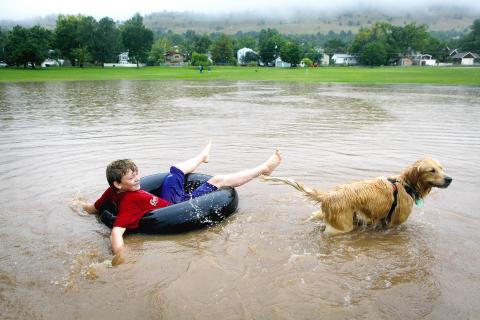 Nicky Toor, 15, floats on the lawn of North Boulder Park on Thursday in Boulder, Colorado.
Photo: AFP
"There's so much water coming out of the canyon, it has to go somewhere, and unfortunately it's coming into the city," said Ashlee Herring, spokeswoman for the Boulder office of Emergency Management.
Boulder Creek, which runs through the heart of the city, became a raging torrent that burst its banks and flooded adjacent parking lots and streets as warning sirens wailed.
Other towns nestled along the Front Range of the Rockies north of Denver were also hard hit.
In Longmont about 23kms northeast of Boulder, the St Vrain River jumped its banks, cascading across main thoroughfares and making travel across the city impossible overnight.
"Our city is completely divided," by the floodwaters, assistant city manager Shawn Lewis said.
Lewis said 7,000 households were under mandatory evacuation orders. The city opened two emergency shelters for displaced residents.
US President Barack Obama approved a federal disaster assistance request, which will release funds to help with emergency protection, Colorado Governor John Hickenlooper's office said late on Thursday.
National Guard troops were dispatched with emergency supplies to the remote town of Lyons, north of Boulder, which was virtually cut off from surrounding areas when floodwaters washed out US Route 36, county officials said.
A dozen major roads in northeastern Colorado remained shut with significant damage from flooding, mudslides, rockfalls and other debris, the Colorado Department of Transportation said late on Thursday.
Heavy summer rains are not unusual for Colorado, but the intensity and duration of the downpour that began on Monday night was unprecedented.
The National Weather Service said at least 31cm of rain have fallen on Boulder since Sept. 1, smashing a 63-year-old record of 14cm for the month.
A flood watch was extended until 6am yesterday for the entire Front Range, the weather service said, and the rainfall is not expected to ease until later in the day.
A couple were swept away in floodwaters after stopping their car northwest of the city. The man's body was recovered, but the woman was missing and feared dead, said Commander Heidi Prentup of the Boulder County Sheriff's Office.
One body was found in a collapsed building near Jamestown, an evacuated enclave north of Boulder.
The body of a third confirmed fatality, a man, was found by police on flood-watch patrols in Colorado Springs, about 160km to the south.
Comments will be moderated. Keep comments relevant to the article. Remarks containing abusive and obscene language, personal attacks of any kind or promotion will be removed and the user banned. Final decision will be at the discretion of the Taipei Times.