Philippine rebels use 'human shields' in standoff
Muslim militants traded gunfire with Philippine troops yesterday and were using almost 200 villagers as human shields, officials said, in a stand-off after a deadly attack on the southern city of Zamboanga.
Gunshots rang out on the city's coastal outskirts on the second day of clashes between the Philippine government and Moro National Liberation Front (MNLF) fighters intent on derailing peace talks.
"The security forces ... have stabilized the situation. It has been contained and isolated and won't spread to other areas," Philippine Secretary of the Interior Mar Roxas told reporters, adding that authorities were trying to negotiate with the gunmen.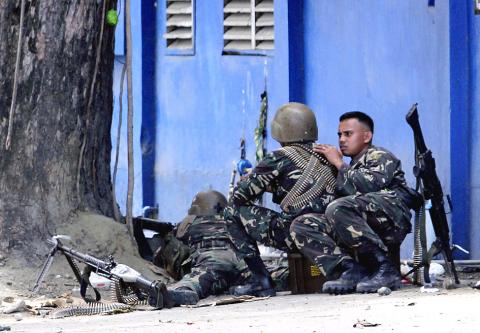 An army sniper aims his rifle at Moro National Liberation Front snipers from behind a tree in Zamboanga, the Philippines, where security forces are battling rebels.
Photo: Reuters
About 180 residents are being used as "human shields" in six villages where the rebels are holed up and surrounded by security forces, Roxas told a joint news conference with Zamboanga Mayor Maria Isabelle Climaco Salazar.
The government had previously described the villagers as "hostages," but Roxas said it appeared they were free to leave if they wished.
"It appears that what happened is not hostage-taking, but more of them being turned into human shields by the MNLF forces who entered their communities. People are free to get in and out of there, they are not bound... Whether they are hostages or not is still being validated," he said.
The gunmen, followers of MNLF founder Nur Misuari, landed by boat and poured into the fishing villages on Monday before mounting an assault on Zamboanga, causing panic in the city of nearly 1 million.
Misuari had earlier declared "independence" for the Muslim southern regions of the mainly Catholic Philippines and called on his followers to besiege government installations.
Philippine President Benigno Aquino III, speaking to reporters in Manila, refused to set a deadline for resolving the crisis.
"We can't be giving deadlines when what we want to ensure is that no more civilians are affected, hurt or killed," he said.
Roxas and Salazar said the initial attack killed four people and left 14 injured, reducing the toll given on Monday when the mayor said there were six dead and 24 wounded, but gave no explanation.
Philippine military spokesman Lieutenant-Colonel Ramon Zagala estimated that there were 180 MNLF gunmen hiding out in the communities and armed with rifles and mortars, revising down an earlier estimate of 200 to 300.
About 1,500 elite troops backed by a smaller number of police have surrounded the area to hold the gunmen in place and prevent the arrival of potential rebel reinforcements, he told reporters.
MNLF spokesman Emmanuel Fontanilla told DZMM radio that the rebels were prepared to dig in.
"Our forces will stay where they are. They are on a defensive posture," he said.
The fighting has displaced about 1,500 residents of the mainly Muslim villages.
ABS-CBN television footage showed hundreds of residents spending the night sleeping on the floor of crowded gyms.
Misuari has criticized a preliminary peace deal signed last year by the government and the Moro Islamic Liberation Front (MILF), which split from the MNLF in 1978.
He said the agreement marginalized his group and a peace treaty that it signed in 1996.
The attack came as the government prepared to resume peace talks with the MILF aimed at ending a 42-year-old rebellion that has claimed 150,000 lives.
Comments will be moderated. Keep comments relevant to the article. Remarks containing abusive and obscene language, personal attacks of any kind or promotion will be removed and the user banned. Final decision will be at the discretion of the Taipei Times.