Suspicious fires scorch Brazilian Indians' land
Fires have destroyed one-fifth of Brazil's Maraiwatsede indigenous reserve in what some officials suspect is a revenge attack by non-Indians who were evicted from the region late last year.
Government satellite images show that in the past week, more than 400 fires raged in territory belonging to the Xavante Indians in Mato Grosso State, Brazil's National Indian Foundation (FUNAI) said.
The Maraiwatsede reserve has become emblematic of rising tensions in Brazil as farmers push into new territory, hoping to profit from the surging output of corn, soybeans and other commodities.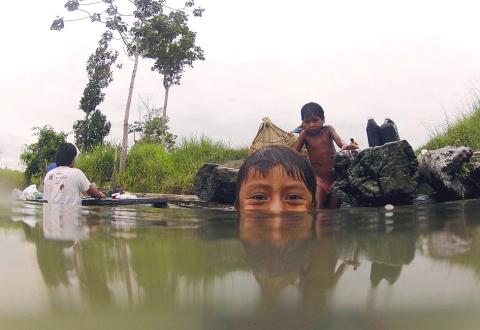 Xavante Indian boys play beside a river in Maraiwatsede indigenous reserve in Mato Grosso State, Brazil, on Feb. 4.
Photo: Reuters
Hundreds of such disputes have erupted nationwide, prompting Brazilian President Dilma Rousseff to intervene to try to prevent violence.
In Maraiwatsede, the federal government ordered about 7,000 non-Indian residents to leave without compensation after courts last year ruled that the land belonged to the Xavante. The government officially made the land an indigenous reserve in 1998, but some non-Indian farmers and ranchers stayed on.
Violent protests by gun-bearing ranchers broke out when the evictions were ordered in October last year, prompting troops to fire rubber bullets and tear gas at the protesters. The apparent arson in Maraiwatsede suggests that former farm owners are still seeking revenge and tensions may continue to escalate.
FUNAI "believes it is quite possible that this is a retaliation against the evictions," said Tatiana Vilaca, the agency's coordinator for prevention of illicit activity, in a telephone interview from Brasilia.
Brazil has followed a mandate in its 1988 constitution and set aside nearly 13 percent of its territory for Indian reservations to try to address historical wrongs. Enforcement only became an issue since the crop boom, as many of the reserves are in the uninhabited Amazon and are therefore not so controversial.
State and federal laws frequently do not match up in Brazil and farmers say they have legitimate property titles on land that the federal government says was made into Indian reservations following anthropological studies.
Rousseff's government has indicated that it will start paying farmers and ranchers for territory on other existing reservations and slow the approval of new territories.
Vilaca said firefighters dispatched to Maraiwatsede reported seeing outsiders with trucks near the flames. FUNAI lacks evidence of anyone starting the fires and has asked federal police to find the perpetrators and protect the Indians.
Mato Grosso State Police in Alto Boa Vista, a town bordering the reserve, said some residents had accused the Xavate of starting the fires. State police do not plan to investigate as reserves are federal territories, a spokeswoman said.
IBAMA, the government's environmental affairs agency, said that 31,000 of Maraiwatsede's 165,000 hectares — an area about the size of Greater London — had been scorched by flames of "criminal origin" as of Aug. 16. It said the frequency of the fires means they cannot be natural and their having been started close to roads suggests they were set by outsiders.
Vilaca said that fires on Indian territory are common because tribes use flames for cooking and ceremonies, but the Maraiwatsede case was clearly a criminal attack.
Comments will be moderated. Keep comments relevant to the article. Remarks containing abusive and obscene language, personal attacks of any kind or promotion will be removed and the user banned. Final decision will be at the discretion of the Taipei Times.