San Francisco threatened by wildfire
A giant wildfire raging out of control grew to nearly 518km2 and spread into Yosemite National Park on Friday, as California Governor Jerry Brown declared a state of emergency for the city of San Francisco 240km away because of the threat to the city's utilities.
The fire hit the park at the height of summer season, as officials geared up for a busy holiday weekend. It has closed some back-country hiking, but was not threatening the Yosemite Valley region, one of California's most popular tourist destinations.
Nevertheless, the blaze did pose a threat to the lines and stations that pipe power to the city of San Francisco, so Brown, who declared an emergency for the fire area earlier in the week, made the unusual move of extending the emergency declaration to the city across the state.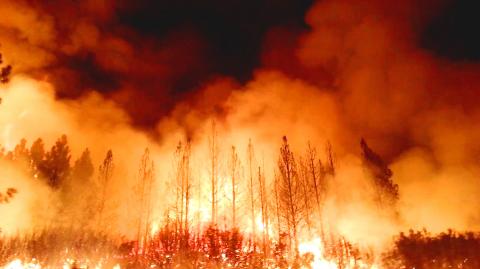 A wildfire burns near Yosemite National Park in California in a handout made available on Friday by the US Forest Service.
Photo: AFP / US FOREST SERVICE
San Francisco gets 85 percent of its water from the Yosemite-area Hetch Hetchy Reservoir, which is about 6.4km from the fire, although that had yet to be affected. However, the city was forced to shut down two of its three hydroelectric power stations in the area.
San Francisco has so far been able to buy power on the open market and use existing supplies, but further disruptions or damage could have an effect, according to city power officials and the governor's statement.
The declaration frees funding and resources to help the city and makes it eligible for more federal funds to help with power shortages and outages or water problems.
The week-long blaze on the slopes of the western Sierra Nevada mountain range has spread to 500km2 and was only 5 percent contained. It continued to grow in several directions, although "most of the fire activity is pushing to the east right into Yosemite," said Daniel Berlant, spokesman for the California Department of Forestry and Fire Protection.
Smoke blowing across the Sierra into the state of Nevada forced officials in several counties to cancel outdoor school activities and issue health advisories, especially for people with respiratory problems.
Authorities urged more evacuations in nearby communities where thousands have already left.
The fire was threatening about 5,500 residences, according to the US Forest Service. The blaze has destroyed four homes and 12 outbuildings in several different areas. More than 2,000 firefighters were on the lines and one sustained a heat-related injury.
While the park remained open, the blaze closed a 6.4km stretch of State Route 120, one of three entrances into Yosemite on the west side. Two other western routes and an eastern route were open.
Within the park, the blaze was burning on about 44km2 in a remote area around Lake Eleanor, Yosemite spokeswoman Kari Cobb said.
Backcountry permits are required to hike in that area, Cobb said. The park was no longer issuing those and had contacted every person who had received a permit to go there. Two roads into that area were closed and occupants of a campground near the Route 120 west entrance were relocated.
The fire is more than 32km from Yosemite Valley and skies there were "crystal clear," Cobb said.
On Friday, officials issued voluntary evacuation advisories for two new towns — Tuolumne City, population 1,800, and Ponderosa Hills, a community of several hundred — which are about 8km from the fire line, Forest Service spokesman Jerry Snyder said.
A mandatory evacuation order remained in effect for part of Pine Mountain Lake, a gated community a few kilometers from the fire.
"It feels a little bit like a war zone, with helicopters flying overhead, bombers dropping retardant and 10 engine companies stationed on our street," resident Ken Codeglia said.
Comments will be moderated. Keep comments relevant to the article. Remarks containing abusive and obscene language, personal attacks of any kind or promotion will be removed and the user banned. Final decision will be at the discretion of the Taipei Times.