Rival Koreas strike deal on family reunions
North and South Korea agreed on Friday to go ahead with the first reunions in three years for families separated for decades by the 1950-1953 Korean War, Seoul said, the latest sign of warming ties between the rivals.
The reunion program was suspended after the North's shelling of a South Korean border island in November 2010, and its resumption marks a symbolic but important step.
The reunions will be held on Sept. 25 to 30 at the North's Mount Kumgang resort, South Korea's Unification Ministry said in a press briefing, conceding to Pyongyang over the contentious choice of venue.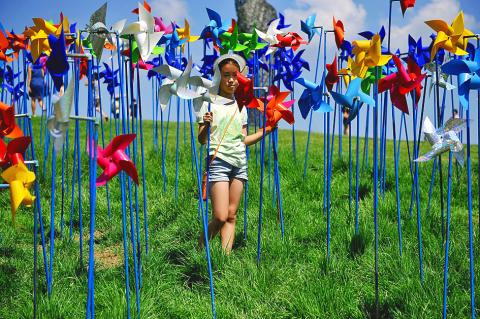 A girl yesterday plays in a peace park near Panmunjom in Paju, which has separated the two Koreas since the Korean War.
Photo: AFP
"With today's agreement, we set the stage for regular family reunions," ministry spokesman Kim Hyung-suk said, adding the two sides will push for another round of family reunions in November.
The ministry said that 100 families from each side would be selected to take part in the temporary reunion program.
For those too infirm to travel, reunions via video conferencing will be arranged for 40 families from each side in October, it added.
Seoul was initially keen to avoid hosting the reunions at Mount Kumgang, fearing the North would link the issue to that of restarting tours to the mountainous resort.
The South suspended the tours in 2008 after a North Korean soldier shot dead a tourist who strayed into a restricted zone.
The push to restart the reunions was initiated last week by South Korean President Park Geun-hye, who urged Pyongyang to "open its heart" and agree to kickstart the program in time for next month's Chuseok holiday — when Korean families traditionally gather together.
Millions of Koreans were left separated by the Korean War, which sealed the peninsula's division. Most have died without having had a chance to reunite with family members last seen six decades ago.
Comments will be moderated. Keep comments relevant to the article. Remarks containing abusive and obscene language, personal attacks of any kind or promotion will be removed and the user banned. Final decision will be at the discretion of the Taipei Times.