Rains continue to pound Manila
WATER TORTURE: One of the worst-affected areas was the coastal district of Cavite near the capital, where residents endured waist-deep water streaming through their homes
Heavy rain pounded the Philippine capital and surrounding areas for a third day yesterday, adding to the misery of nearly 300,0000 exhausted people displaced from their flooded homes.
Eight people have already been confirmed killed by the monsoon rains that have battered the main Philippine island of Luzon and provincial authorities warned the death toll would rise with reports of more drownings.
About a third of Metro Manila, a low-lying and sprawling megacity of 12 million people, remained under water, with some areas enduring waist-deep floods, Philippine Red Cross secretary-general Gwendolyn Pang said.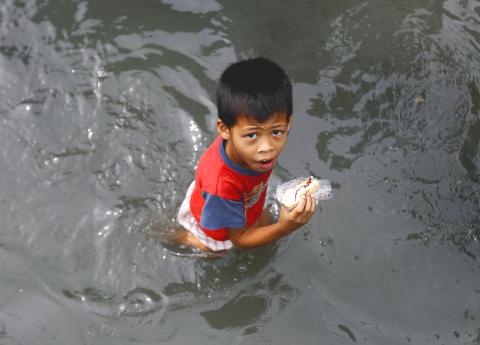 A boy holding a sandwich wades through floodwaters in Muntinlupa, Philippines, yesterday.
Photo: EPA
The crisis had eased from Tuesday, when more than half of the city was submerged and the rain was heavier, but Pang said many people were still suffering, with close to 300,000 people living in evacuation centers or seeking shelter with friends and relatives.
"The problem now is food and a source of water for drinking. They also have to wash their clothes, [while] some had their belongings washed away by the water," Pang said.
One of the worst-affected areas was the coastal province of Cavite, about 18km from the heart of the capital, where residents were enduring waist-deep water streaming through countless homes.
"We are really pitiful here. People are still shocked. There is no electricity," said Lino Ibadlit, a district councilor.
He said the local government had brought some food and other relief goods, but they were only suitable for one day.
"The people have no choice but to wade through the water to look for food, but stores are either closed or have run out of supplies ... we need canned goods, noodles, biscuits," he said.
Ibadlit said health was also starting to become a concern, with children beginning to suffer from colds and skin rashes.
The floods paralyzed the capital region on Monday and Tuesday, with schools, government offices and the stock exchange closed. The city was even quieter yesterday, although it was a public holiday.
People living in important farming regions to the north of Manila were also enduring flooding. In Pampanga province knee-high water submerged vast areas of rice fields and farming towns.
Marcela Cantellana, 53, said five families whose homes are beside the Porac River had been living inside her two-story home since the floods struck before dawn on Monday.
"The water went up so quickly. They weren't even able to save their clothes because the water rose to the rooftops in minutes. All of their livestock — their goats, pigs and chickens — were lost," she said.
However, the flooding in Pampanga was lower than on Tuesday and the Porac River had returned to normal levels yesterday, allowing the displaced families at Cantellana's house to start cleaning out their homes.
Local governments reported at least seven more people had died due to the floods in some areas outside of Metro Manila. However, the National Disaster Risk Reduction and Management Council had yet to confirm the fatalities and the official death toll remained at eight.
Moderate to heavy rain was expected to continue falling across Manila and northern Luzon throughout yesterday, the state weather bureau said.
The seasonal monsoon was worsened by Tropical Storm Trami, which had been hovering to the north of the Philippines.
Trami was about 500km northeast of the Philippines yesterday and moving slowly away, according to the weather bureau, which said the rains were expected to ease later this week.
The Southeast Asian archipelago endures about 20 major storms or typhoons annually, generally in the second half of the year and many of them deadly.
More than 460 people were killed in 2009 when Tropical Storm Ketsana left 80 percent of Manila submerged and in August last year, 51 people died when more than a month's worth of rain was dumped in and around Manila in 48 hours.
Comments will be moderated. Keep comments relevant to the article. Remarks containing abusive and obscene language, personal attacks of any kind or promotion will be removed and the user banned. Final decision will be at the discretion of the Taipei Times.