US teen found, police kill alleged abductor
A harrowing week-long search for a missing California teenager ended on Saturday when FBI agents rescued the girl and shot and killed her apparent kidnapper at a campsite deep in the Idaho wilderness.
Hannah Anderson, 16, appeared uninjured and was taken to a hospital where counselors and healthcare providers were assisting her.
"We will make sure she gets as much care as possible, physically and emotionally," said Andrea Dearden, a spokeswoman from the Ada County Sheriff's Department who has been leading the communication team for the interagency effort in Valley County.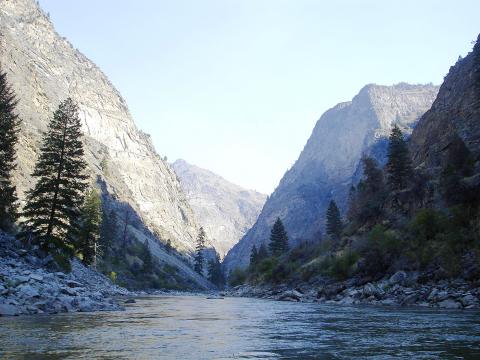 The Frank Church River of No Return Wilderness in Idaho is seen in this undated handout photograph courtesy of Steph Bernt Ellis of Aggipah River Trips.
Photo: Reuters
The suspected abductor, James Lee DiMaggio, 40, was killed after his campsite was found in Idaho's rugged Frank Church River of No Return Wilderness, about 65km from the tiny town of Cascade.
Hannah's father, Brett Anderson, was flying to Idaho to reunite with his daughter yesterday, officials said.
The case began when the charred bodies of the teen's mother, Christina Anderson, 44, and her eight-year-old brother, Ethan Anderson, were found in DiMaggio's burning house outside San Diego, California, near the Mexico border.
DiMaggio was close to the family. Brett Anderson has described him as a best friend and said the children thought of him as an uncle.
Authorities have said DiMaggio had an "unusual infatuation" with Hannah, although the father said he never saw any strange behavior.
An Amber Alert was issued and tips led investigators to Oregon after DiMaggio and the teen were reportedly spotted there.
Law enforcement officials in several states conducted a manhunt and were finally tipped off when a horseback rider called on Thursday to report having spotted a man and a girl at a remote location in Idaho.
The rider reportedly said it seemed odd that the two were equipped with only light camping gear in such a remote region.
On Friday police found the suspect's car, without its license plates, hidden under the brush at the end of a trail entering an area of deep canyons and rocky hills.
A contingent of about 270 law enforcement officers from the FBI, the Valley and Ada County sheriffs' offices, Idaho State Police, the US Marshals Service, and the Border Patrol — aided by experts from federal land management and wildlife agencies — worked around the clock to figure out the best way to track DiMaggio and the teen in the roadless area.
Comments will be moderated. Keep comments relevant to the article. Remarks containing abusive and obscene language, personal attacks of any kind or promotion will be removed and the user banned. Final decision will be at the discretion of the Taipei Times.