Escaped Malaysian hostage recounts eight-month ordeal
A Malaysian plantation manager held hostage by Philippine Muslim extremists said he escaped before dawn under the cover of a tropical downpour after almost nine months in abysmal conditions, reports said yesterday.
Tung Wei Jie, 26, who was seized in the Malaysian state of Sabah on Borneo Island in November last year together with his cousin, was found in the southern Philippine island of Jolo last week and returned to Malaysia on Saturday.
Tung told local media in his uncle's home in Port Dickson on the Straits of Malacca that he escaped in heavy rain from a bamboo hut in the jungle when his abductors, about 20 gunmen, went for pre-dawn prayers.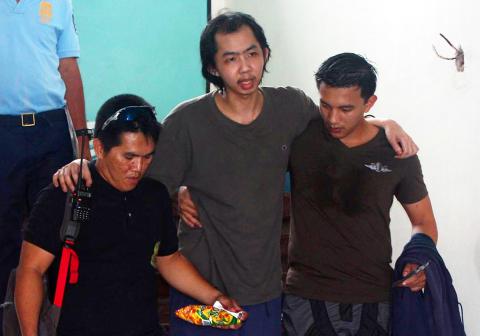 Malaysian Tung Wei Jie, center, is assisted by unidentified Filipinos in Sulu Province, Philippines, on Tuesday.
Photo: EPA
He and his cousin, Wei Fei, 34, who suffered from hypertension, had been taken away in April with the abductors, who demanded ransom from the family, claiming they would bring him to a hospital.
Tung said he did not know what happened to his cousin. Philippine police said on Tuesday that he died from illness.
"The hut was in the middle of nowhere. It was infested with mosquitoes. We each had one of our legs chained to the wooden pillars," Tung was quoted by the Star as saying.
"After my cousin was taken away, I began using a fork to cut through a link in the iron chain. I succeeded after almost a month... I waited another month. And then I got the chance to escape," he said.
Tung said he prayed for rain to escape unnoticed, adding that he ran "through dense jungle for hours and hours," taking only short breaks until reaching a village.
Exhausted and dehydrated, he collapsed until the next day, when a villager alerted the police.
Tung said he, his cousin and two other workers were at their palm oil plantation in Sabah's Lahad Datu District in November last year when about half a dozen men — some armed with machine guns — appeared and ordered them to walk to the beach. While the two workers were freed, the cousins were ordered aboard a speedboat.
They later boarded another boat to a small island, where they stayed five days, before being taken to Jolo, a known stronghold of the Abu Sayyaf militant group.
While in captivity, they were only fed plain rice and some fried fish and not allowed to bathe for three months. There was no running water or electricity, Tung added.
"They were planning to shoot us or just dump us at sea" after securing ransom, he said, adding that they overheard their captors' discussion.
"It was very traumatizing," the New Straits Times quoted him as saying.
Tung's uncle said he only spoke briefly to his son, Tung's cousin, in January and Tung on April 18.
Agence France-Presse could not reach Tung or his family.
Philippine police have blamed the kidnapping on the Abu Sayyaf group, responsible for multiple bombings and mass kidnappings of foreigners.
In 2000, the group seized 21 mostly Western holidaymakers from a resort at Sipadan in Sabah State. The hostages were later freed.
Comments will be moderated. Keep comments relevant to the article. Remarks containing abusive and obscene language, personal attacks of any kind or promotion will be removed and the user banned. Final decision will be at the discretion of the Taipei Times.