Burmese democracy activists mark junta crackdown
Myanmar activists yesterday held their first march through Yangon to mark the anniversary of a bloody crackdown on democracy rallies 25 years ago, in commemorations aimed at propelling reforms after the end of military junta rule.
Hundreds of people watched about 50 campaigners march through downtown Yangon to recall one of the bloodiest incidents in the modern history of Myanmar, which has seen striking political changes since the end of an outright military dictatorship two years ago.
"I think that we can now walk on the path to democracy because of the 1988 revolution. The transition is the consequence of that uprising," said Tun Tun Oo, a 49-year-old businessman who was a student protester involved in the 1988 rallies.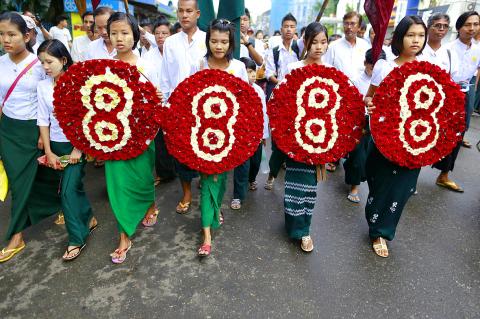 Students hold four wreaths as they march to mark the 25th anniversary of a democratic uprising, also known as "8888," in Yangon, Myanmar, yesterday.
Photo: Reuters
Marchers, who did not have official permission to walk through the streets, refused to halt when the head of police asked them to stop. Police allowed them to continue, standing aside, but taking pictures of those involved.
"I don't think we need to get permission ... We do not want to protest, we just want to express our respect. We are just walking," Tun Tun Oo said.
A vicious military assault on student-led demonstrations against Myanmar's military rulers on Aug. 8, 1988, in the then-capital Yangon sparked a huge popular uprising against the junta.
Hundreds of thousands of people took to the streets in the country calling for democracy, in protests that came to a brutal end the following month with an army crackdown that killed more than 3,000.
Myanmar has undergone sweeping political changes since a quasi-civilian regime replaced junta rule in 2011. Reforms have included freeing hundreds of political prisoners — many who were jailed for their roles in the 1988 rallies — and welcoming democracy champion Aung San Suu Kyi and her party into parliament.
The Nobel laureate, who was taking part in yesterday's commemorations, rose to prominence during the protests.
She had been living in London, but returned to Yangon in 1988 to nurse her sick mother and was quick to take on a leading role in the pro-democracy movement, delivering speeches to the masses at the city's Shwedagon Pagoda.
Earlier yesterday, activists laid wreaths at the Sule Pagoda in the center of Yangon, which was at the heart of the Aug. 8 crackdown.
Win Min, a former student protester, said the scene in the area 25 years ago was "the worst and most unforgettable of my life."
"We want to show our sorrow for the dead today and to show them we are moving forward to the goal of democracy ... We promised them we would continue," Win Min said.
Comments will be moderated. Keep comments relevant to the article. Remarks containing abusive and obscene language, personal attacks of any kind or promotion will be removed and the user banned. Final decision will be at the discretion of the Taipei Times.