Analysts lambast Turkey's mass coup trial
Analysts in Turkey heaped scorn on a court's decision to sentence a former army chief to life in jail following a divisive trial of 275 people accused of plotting a coup.
The civilian court on Monday imprisoned former top general Ilker Basbug for life and handed down lengthy sentences for other retired high-ranking officers, academics, politicians, lawyers and journalists in a landmark verdict that prompted ridicule from some observers.
Istanbul's Galatasaray University's Umit Kocasakal dismissed the trial as a "theater play."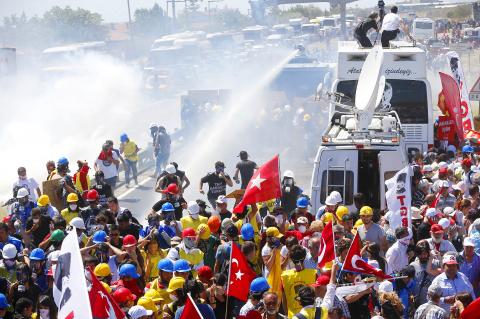 Riot police use water cannons and tear gas to disperse protesters as they try to march to a courthouse in Silivri, where a hearing on people charged with attempting to overthrow Turkish Prime Minister Recep Tayyip Erdogan's government was to take place on Monday.
Photo: Reuters
"The play is over, applaud," said Kocasakal sarcastically, a phrase traditionally used at the end of Roman plays.
"An unlawful end is fitting for such an unlawful court case," he added.
The mass trial was seen as a key test in Turkish Prime Minister Recep Tayyip Erdogan's showdown with secularist and military opponents, and critics branded it as a witchhunt aimed at stifling dissent.
The defendants faced dozens of charges, ranging from membership of an underground "terrorist organization" to arson, illegal weapons possession and instigating an armed uprising against Erdogan and his Justice and Development Party (AKP).
Only 21 of the 275 defendants were acquitted, although others were convicted and then released as they had already served time in prison.
"I have serious suspicions about the heavy penalties that should have been based on very tangible evidence," former Turkish justice minister Hikmet Sami Turk said.
"You have army generals, journalists and lawyers among the convicted. How would they end up joining forces to stage a coup?" he asked, slamming the verdict as "politically motivated."
"The ruling has seriously shaken trust in the judiciary," he added.
Pro-government circles however have praised the trial as a step toward democracy in Turkey, urging respect for what they said is an independent judiciary.
Observers in Turkey initially hailed the probe as promising to reveal a secularist plot, but the lengthy proceedings and lack of evidence overshadowed the so-called "Operation Gladio."
Suspicions also arose that the case was a way for Erdogan's government to avenge the army's ouster of his Islamist predecessors. The charges triggered an angry reaction across the country, with defendants openly suggesting that the trial was being used by the government to strike down the all-powerful army, the self-appointed guardian of secularism.
"So the verdict is saying that the Turkish Armed Forces [TSK] was a terrorist organization engaged in coup plots," Turk said.
In February, Erdogan defended the army and Basbug in particular, saying: "It would be a serious mistake to say Ilker Basbug is a member of a terrorist organization."
Basbug, 70, led Turkey's military campaign against the rebel Kurdistan Workers' Party (PKK) for many years, only to be accused in retirement of having led a terrorist group himself.
In a Twitter post at the weekend, he branded the trial as "a black stain on the glorious history of the Turkish state and its army" and said he believed the Turkish public would not accept "the punishment of innocent people."
The verdicts are expected to be appealed, a process that analysts said could last at least two years.
Comments will be moderated. Keep comments relevant to the article. Remarks containing abusive and obscene language, personal attacks of any kind or promotion will be removed and the user banned. Final decision will be at the discretion of the Taipei Times.