Singapore demands action on smog
'WORST HAZE EVER': Singapore says Indonesia must act to reduce the hazardous levels of smog blanketing the city-state due to Indonesian slash-and-burn farming
Singapore yesterday demanded "definitive" action by Indonesia on forest fires raging in Sumatra as the two neighbors prepared for emergency talks to ease the severe smog enveloping the city-state.
Singapore's air pollutant index was again hovering around the "hazardous" level of 301 at midday, close to the all-time high of 321 set the night before. Any reading above 200 is considered threatening to health.
"This is now the worst haze that Singapore has ever faced," Singaporean Minister for the Environment and Water Resources Vivian Balakrishnan said.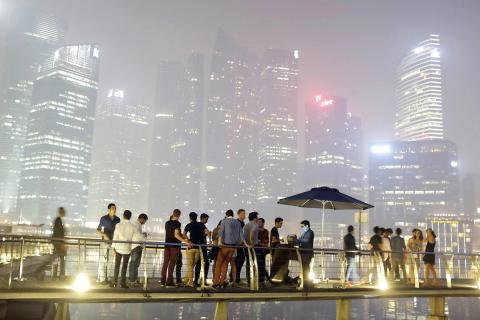 Partygoers line up to enter a nightclub at Marina Bay Sands as haze shrouds the skyline of Singapore in the background late on Wednesday night.
Photo: Reuters
Singapore is sending Singaporean National Environment Agency chief executive Andrew Tan to attend a meeting hosted by Indonesia's foreign ministry in Jakarta, a government statement said.
"We need urgent and definitive action by Indonesia to tackle the problem at source," Balakrishnan said on Facebook ahead of the Jakarta talks. "Singaporeans have lost patience, and are understandably angry, distressed and concerned. No country or corporation has the right to pollute the air at the expense of Singaporeans' health and wellbeing."
Singaporean Prime Minister Lee Hsien Loong (李顯龍) said he will meet "relevant ministers" yesterday and hold a press conference on the situation.
"Please stay indoors where possible and avoid heavy outdoor activities. Look out for one another — we will get through this together," he said in a message to the public.
Smog still shrouded the city-state — from high-rise residential blocks and skyscrapers to tree-lined parks and promenades — as residents went to work yesterday, and more commuters were seen wearing disposable medical masks than in previous days.
The acrid odor of burnt wood and grass could be smelled in living rooms and bedrooms across the island, as well as inside the air-conditioned trains of Singapore's metro system.
Some residents said they feared rising electric bills this month because they have had to turn on their air-conditioners for longer periods.
Drug stores in the central business district were sold out of disposable masks and refused to take advance orders, telling customers to return the next day in case new stocks arrived.
Parks were deserted of the usual morning joggers, but thousands of employees still trooped to offices and laborers continued their work on high-rise buildings under construction.
Song Seng Wun (宋城煥), a regional economist with Malaysian bank CIMB, said he had not heard of meetings being deferred yet in the financial district.
"But if the haze stays this bad for the rest of the week or beyond, I think there will be cancellations and postponements," he said.
The previous Singapore air pollutant index high of 226 was recorded in September 1997 at the height of a Southeast Asian calamity also resulting from vast amounts of haze from Indonesia, where slash-and-burn farming generates large amounts of smoke during the dry season that begins in June.
Singapore has urged children, the elderly and those with heart or lung disease to avoid outdoor activities and seek medical treatment early if they feel unwell.
Local and international schools were already on summer holiday when the haze reached unhealthy levels at the start of the week.
Parts of Malaysia close to Singapore have also been severely affected by the smog.
The Indonesian forestry ministry said on Wednesday that it plans to use cloud seeding to try and unleash rain on Sumatra.
Smallholders and plantations in Sumatra — some of them with Singaporean investors — have been accused of using fire to clear land for cultivation, but big palm oil companies deny involvement in such activities.
Comments will be moderated. Keep comments relevant to the article. Remarks containing abusive and obscene language, personal attacks of any kind or promotion will be removed and the user banned. Final decision will be at the discretion of the Taipei Times.