New York launches US bicycle scheme
The biggest bicycle-sharing program in the US got rolling on Monday, as thousands of New Yorkers got their first chance to ride a network described as a new form of public transit.
The privately financed program called Citi Bike, named after lead sponsor Citigroup Inc, began with 6,000 bikes at more than 300 stations. Plans call for expanding it to 10,000 bikes docked at 600 places in Manhattan, Brooklyn and Queens. Riders can now unlock the three-gear, cruising-style bikes from any station, take them for 45-minute rides and return them to any rack.
"We now have an entirely new transportation network without spending any taxpayer money," an enthusiastic New York Mayor Michael Bloomberg said at a news conference.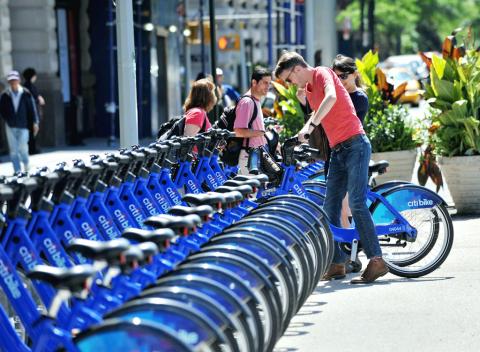 A couple get their Citi Bike bicycles from a station near Union Square as a bike-sharing system is launched on Monday in New York. About 330 stations in Manhattan and Brooklyn will have thousands of bicycles for rent.
Photo: AFP
It is one of more than 500 bike-sharing systems around the world. Fifteen thousand people have already signed up for New York's program, city Transportation Commissioner Janette Sadik-Kahn said.
While many New Yorkers already do without cars, Bloomberg's administration has added hundreds of kilometers of bike lanes and promoted cycling as a healthy and environmentally friendly alternative to driving. Officials see bike-sharing as a big next step.
The bike-sharing roll out was delayed because of problems including damage from Superstorm Sandy, and a woman made off with one of the bicycles on Sunday evening as workers unloaded them at a Manhattan station, police said. Bloomberg said the bike was recovered. Police were looking for a suspect.
Some residents are upset about the bike stations, saying the racks are blocking entrances to their buildings or taking up parking space for a profit-making program. The city intends to split any profits with Citigroup, which is paying US$41 million to sponsor the program. MasterCard is paying an additional US$6.5 million.
"We're not against the bikes, we're against them in our park," said Laura Tenenbaum, one of the sign-carrying critics who came to Bloomberg's news conference.
Bloomberg said New Yorkers have long had to work around parked cars and other obstacles.
"We have a busy city," he said. "We like that. That's good."
Citi Bike subscribers pay a US$95 annual fee for unlimited rides of 45 minutes. Starting on Sunday, riders will also be able to buy a 24-hour pass for about US$10 and a seven-day pass for US$25. Both allow for an unlimited number of 30-minute trips.
Comments will be moderated. Keep comments relevant to the article. Remarks containing abusive and obscene language, personal attacks of any kind or promotion will be removed and the user banned. Final decision will be at the discretion of the Taipei Times.