Iraqi monthly death toll past 500
BAGHDAD ATTACKS: A wave of car bombings rocked largely Shiite areas of the capital on Monday, killing 59 people and wounding 187. No one has yet claimed responsibility
Violence in Iraq has killed more than 500 people this month, Agence France-Presse figures showed yesterday, as authorities struggled to contain a wave of unrest that has raised fears of new sectarian conflict.
And the UN envoy to Iraq urged the country's leaders to meet to resolve long-running political crises that have paralyzed the government and been linked to its inability to reduce the violence.
As of Monday, 503 people had been killed and 1,273 wounded, making this month the deadliest month in at least a year, according to the data, based on reports from security and medical officials.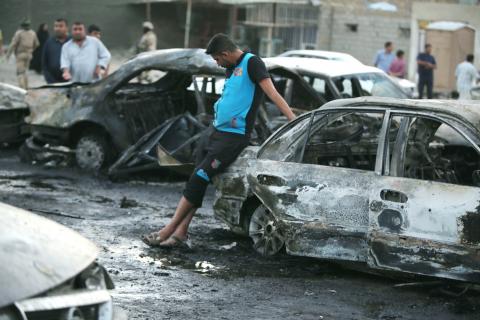 Iraqi men gather at the scene of one of the two car bombs that exploded in Baghdad's Habibiyah area in Iraq on Monday.
Photo: AFP
This month is the second month in a row in which more than 400 people have been killed, for a total exceeding 960 people in less than two months.
A wave of attacks, including bombings in Baghdad that mainly targeted Shiite areas, killed 58 people on Monday and wounded 187, officials said.
"I once again urge all Iraqi leaders to do everything possible to protect Iraqi civilians. It is their responsibility to stop the bloodshed now," UN envoy Martin Kobler said in a statement yesterday.
"It is the politicians' responsibility to act immediately and to engage in dialogue to resolve the political impasse and not let terrorists benefit from their political differences," he said.
Meanwhile, the US embassy issued a statement in which it said it "strongly condemns the wave of bombings," expressing condolences to the victims.
There was no immediate claim of responsibility for Monday's bombings, but they bore the hallmarks of al-Qaeda's Iraqi arm. The group, known as the Islamic State of Iraq, frequently uses car bombs and coordinated blasts against Shiites to undermine Iraqis' confidence in the government.
The day's deadliest attack happened when two bombs exploded in the eastern Habibiya area on the edge of the sprawling Shiite district of Sadr City. Those blasts killed 12 and wounded 35, police said. Twin blasts also struck an open-air market in the predominantly Shiite al-Maalif area, killing six.
Another car bomb exploded in the busy commercial Sadoun Street in downtown Baghdad. It killed five civilians and wounded 14, police said. Among the wounded were four policemen.
A car bomb went off in the eastern New Baghdad area as officers were waiting for explosives experts to dismantle it. A civilian was killed and nine others wounded.
A blast in the Sabi al-Boor neighborhood in the north killed eight civilians and wounded 26. In the Kazimiyah district, a car bomb blew up near a bus and taxi stop, killing four and wounding 11.
Additional reporting by AP
Comments will be moderated. Keep comments relevant to the article. Remarks containing abusive and obscene language, personal attacks of any kind or promotion will be removed and the user banned. Final decision will be at the discretion of the Taipei Times.