North Korea lays out 'incomprehensible' conditions for talks
North Korea laid down rigid conditions yesterday for dialogue with Seoul or Washington, including the withdrawal of UN sanctions and a guaranteed end to South Korea-US joint military drills.
The list of demands from the North's top military body was swiftly rejected as "incomprehensible" by South Korea, which, together with the US, has made any talks conditional on the North taking steps toward denuclearization.
Dialogue has become the new focus of a blistering rhetorical battle that has sent military tensions soaring on the Korean Peninsula ever since the North carried out its third nuclear test in February.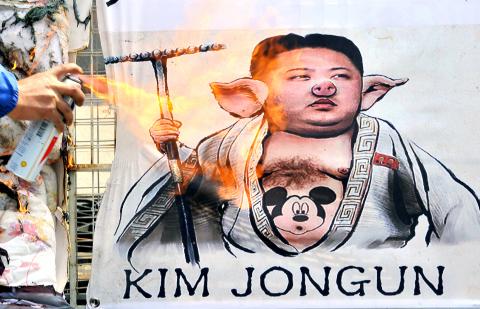 A South Korean activist burns a placard showing a caricature of North Korean leader Kim Jong-un during an anti-North Korea rally in Seoul yesterday.
Photo: AFP
Some analysts see the North's engagement in a debate over dialogue — no matter how unrealistic the conditions — as a welcome shift from the apocalyptic threats of nuclear war that have poured out of Pyongyang in recent weeks.
"I don't think Pyongyang really expects these conditions to be met," said Yang Moo-jin, a professor at the University of North Korean Studies in Seoul. "It's an initial show of strength in a game of tug-of-war that at least shows a desire to have a dialogue down the line."
The first step demanded by the North's National Military Commission was the withdrawal of "cooked up" UN sanctions that were imposed after the nuclear test in February.
North Korea has repeatedly cited the sanctions as a prime trigger for the current crisis.
The other main bone of contention has been ongoing joint South Korea-US military drills, which have involved the deployment of nuclear-capable B-52s and B-2 stealth aircraft.
Both countries must provide international guarantees that such "nuclear war drills" will never be repeated, the commission said.
"Dialogue and war games can never go together," it added.
South Korean Foreign Ministry spokesman Cho Tai-young called the North's pre-conditions "absurd" and said it was time for Pyongyang to choose engagement with the international community over provocation.
"We strongly urge the North to stop making such incomprehensible demands and to make the wise choice we have repeatedly urged," Cho told a press briefing.
Daniel Pinkston, a North Korea expert with the International Crisis Group, ruled out any suggestion that the North was softening its position and said those hoping a dialogue might emerge were being willfully naive.
North Korea, Pinkston argued, had bound itself to a course that could only end with its recognition as a nuclear power — a status that is anathema to Washington and the US' allies.
"So what is there to even talk about?" Pinkston asked.
"The North is committed. It's burned its bridges. Any reversal could only be made at immense domestic cost to the regime, and there is simply no way any US administration is going to sit down and confirm a change in the status quo with the North as a nuclear state," Pinkston said.
"We're still firmly on a collision course and it's not going to end well," he said.
South Korean President Park Geun-hye has made tentative — and conditional — offers of talks, which received the backing of US Secretary of State John Kerry during his recent visit to northeast Asia.
Both Park and Kerry stressed that any talks would have to be substantive and predicated on signals from North Korea that it "change its ways" and respect its international obligations, especially with its nuclear program.
UN Secretary-General Ban Ki-moon urged Pyongyang on Wednesday to "seriously" consider Seoul's offer.
Comments will be moderated. Keep comments relevant to the article. Remarks containing abusive and obscene language, personal attacks of any kind or promotion will be removed and the user banned. Final decision will be at the discretion of the Taipei Times.