Court orders Musharraf's arrest
JUDGES' REVENGE? A spokesman for former Pakistani president Pervez Musharraf's All Pakistan Muslim League said his supporters had been shocked by the arrest order
A Pakistani court yesterday ordered the arrest of former military ruler and Pakistani president Pervez Musharraf for his controversial decision to dismiss judges when he imposed emergency rule in 2007, officials said.
It was not immediately clear if or when the retired general would be arrested.
Musharraf swept out of the Islamabad court, facing no resistance from a heavy security contingent and drove away in a jeep escorted by his bodyguards.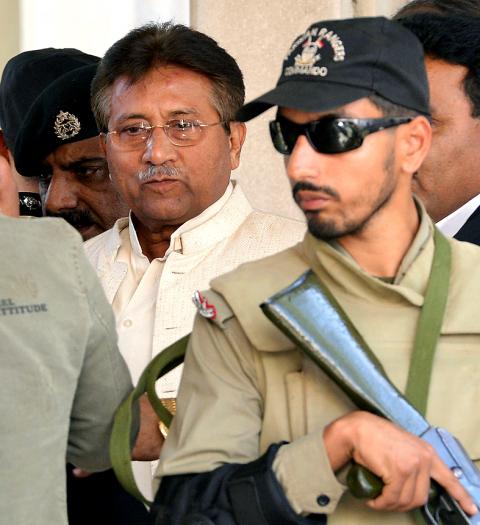 Former Pakistani president Pervez Musharraf, left, is escorted by troops as he leaves the Pindi High Court after a hearing in Rawalpindi, Pakistan, on Wednesday.
Photo: AFP
Police confirmed that Musharraf had been driven to his farm house on the edge of the capital.
"The judge, Shaukat Aziz Siddiqui, ordered that the interim bail is dismissed," Musharraf's defense lawyer Qamar Afzal said.
The case is one of three against Musharraf in the courts. He is also accused of conspiracy to murder opposition leader Benazir Bhutto in 2007 and over the death of a Baluch rebel leader during a military operation in 2006.
Musharraf returned to Pakistan on March 24 after four years of self-imposed exile in Dubai and London, vowing to contest next month's general elections having secured pre-arrest bail in connection with all three cases, but his homecoming has been met by a dismal welcome from a support base that has all but evaporated since he stepped down in 2008 after nine years in office as the nuclear-armed country focuses on a key democratic transition of power next month.
On Tuesday, he was disqualified from contesting the May 11 polls because of the legal cases against him, ending his ambitions of a political comeback built on the promise that he alone could "save" the country from poverty and insecurity.
Musharraf has been in and out of courts in Karachi, Islamabad and Rawalpindi since his return home, but judges have always previously extended his bail.
A spokesman for Musharraf's All Pakistan Muslim League (APML) said his supporters had been shocked by yesterday's arrest order.
"We were quite sure that the judge would extend the bail, but it came to our surprise when the judge said bail was dismissed and he should be arrested," APML spokesman Muhammad Amjad said.
The US-based watchdog Human Rights Watch called on the military authorities overseeing Musharraf's protection to ensure that he presents himself for arrest.
"General Musharraf's act today underscores his disregard for due legal process, and indicates his assumption that as a former army chief and military dictator he can evade accountability for abuses," Human Rights Watch Pakistan director Ali Dayan Hasan said. "Continued military protection for General Musharraf will make a mockery of claims that Pakistan's armed forces support the rule of law and bring the military further disrepute that it can ill afford."
On Friday last week, the same Islamabad high court extended his bail over the judges' case in a 20-minute hearing accompanied by massive security to protect Musharraf, who the Taliban have threatened to assassinate.
On Wednesday, a court in Rawalpindi also extended his bail until Wednesday next week over Bhutto's killing. The former prime minister died in a gun and suicide attack at the end of an election rally in the garrison city on Dec. 27, 2007.
In 2010, a UN report said Bhutto's death could have been prevented and it accused Musharraf's government of failing to give her adequate protection.
Comments will be moderated. Keep comments relevant to the article. Remarks containing abusive and obscene language, personal attacks of any kind or promotion will be removed and the user banned. Final decision will be at the discretion of the Taipei Times.