Embassy staff appear to stay put in North Korea
BUSINESS AS USUAL: Despite Pyongyang ratcheting up its bellicose rhetoric daily, most missions did not seem to pay heed to an appeal to consider leaving
Staff at embassies in North Korea appeared to be remaining in place yesterday, despite an appeal by authorities in Pyongyang for diplomats to consider leaving because of heightened tension after weeks of bellicose exchanges.
North Korean authorities told diplomatic missions they could not guarantee their safety from Wednesday — after declaring that conflict was inevitable amid joint US-South Korean military exercises due to last until the end of the month.
Whatever the atmosphere in Pyongyang, the rain-soaked South Korean capital, Seoul, was calm. Traffic moved normally through the city center, busy with weekend shoppers.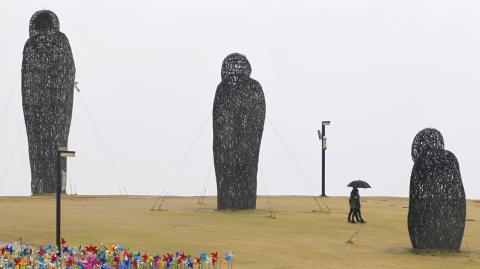 A couple walks on "The Hill of Wind" yesterday at the Peace Park near the demilitarized zone which separates the two Koreas in Paju, north of Seoul, South Korea.
Photo: Reuters
South Korea's Yonhap news agency quoted a government official as saying that diplomats were disregarding the suggestion they might leave the country.
"We don't believe there's any foreign mission about to leave Pyongyang," the unidentified official was quoted as saying. "Most foreign governments view the North Korean message as a way of ratcheting up tension on the Korean Peninsula."
North Korea has been angry since new UN sanctions were imposed following its third nuclear weapons test in February. Its rage has apparently been compounded by joint US-South Korean military exercises that began on March 1.
China's Xinhua news agency on Friday quoted the North's Ministry of Foreign Affairs as saying that the issue was no longer whether, but when a war would break out.
Most countries saw the appeal to the missions as little more than strident rhetoric after weeks of threatening to launch a nuclear strike on the US and declarations of war against the South.
However, Russia said it was "seriously studying" the request.
A South Korean government official expressed bewilderment.
"It's hard to define what is its real intention," said the official, who asked not to be identified. "But it might have intensified these threats to strengthen the regime internally or to respond to the international community."
The UN said its humanitarian workers remained active across North Korea. However, UN Secretary-General Ban Ki-moon remained "deeply concerned" about tensions, heightened since the imposition of UN sanctions against the North for its third nuclear arms test.
The appeal to diplomats followed news reports in the South that North Korea, under 30-year-old North Korean leader Kim Jong-un, had moved two medium-range missiles to a location on its east coast. That prompted the White House to say that Washington would "not be surprised" if the North staged another missile test.
Kim Jong-un is the third member of his dynasty to rule North Korea. He took over in December 2011 after the death of his father, former North Korean leader Kim Jong-il, who staged confrontations with South Korea and the US throughout his 17-year rule.
North Korea has always condemned the exercises held by US forces and their South Korean allies. However, its comments have been especially vitriolic this year as the US dispatched B-2 bombers from its home bases to stage mock runs.
North Korea's government daily newspaper said tension remained high because the US was "waging madcap nuclear war manoeuvres."
"This is aimed at igniting a nuclear war against it through a pre-emptive strike," the Minju Joson said in a commentary. "The prevailing situation proves that a new war, a nuclear war, is imminent on the peninsula."
A television documentary broadcast on Friday quoted Kim Jong-un as saying, during a provincial tour last month, that the country needed to "absolutely guarantee the quality of our artillery and shells to ensure a rapid pre-emptive attack on our enemies."
Some commentators examining the outcome of meetings in Pyongyang last week — of the ruling Workers' Party and of the rubber-stamp legislature — concluded that Kim and his leadership were more concerned with economic than military issues.
Internet site 38 North, which specializes in North Korean affairs, cited the reappointment of reformer Pak Pong-ju as prime minister, the limited titles given to top military and security officials, and the naming of a woman to a senior party post.
"These personnel appointments make a great deal of sense in the context of Pyongyang's declarations ... that its economic policy will be modified by introducing systemic reforms while also continuing the development of nuclear weapons," 38 North commentator Michael Madden wrote.
"[They] appear to be important steps in moving key economic development products and production away from the control of the military to the party and government," he added.
North Korea has not shut down the one symbol of joint cooperation, the Kaesong industrial complex, just inside its border. However, last week it prevented South Koreans from entering the complex and about 100 of them who have since remained were due to return home yesterday, leaving another 500 there.
The barrage of North Korean threats has created jitters in South Korea's financial markets, with a top official warning a policy meeting on Friday of long-term effects.
Shares slid on Friday, but analysts said much of the decline was linked to the Bank of Japan's monetary easing policies and one analyst said further major falls were unlikely.
"In a sense, for now the yen is of greater concern than the North Korea risk," said Ko Seung-hee, a market analyst at SK Securities. "There is a sense that the KOSPI will not fall sharply or drop below the 1,900 level unless big news about North Korea breaks out."
Comments will be moderated. Keep comments relevant to the article. Remarks containing abusive and obscene language, personal attacks of any kind or promotion will be removed and the user banned. Final decision will be at the discretion of the Taipei Times.