Argentina floods kill at least 59
DISASTER RESPONSE: The Argentine government has mobilized army, coast guard and police officers to aid the humanitarian effort and prevent looting
Argentine police and soldiers searched house to house, in creeks and culverts and even in trees for bodies on Thursday after floods killed at least 59 people in La Plata and Buenos Aires.
As torrential rains stopped and the waters receded, the crisis shifted to guaranteeing public health and safety in La Plata. Safe drinking water was in short supply, and more than a quarter-million people were without power, although authorities said most would get their lights back on overnight.
Many people barely escaped with their lives after seeing everything they own disappear under water reeking with sewage and fuel that rose more than 2m high inside some homes.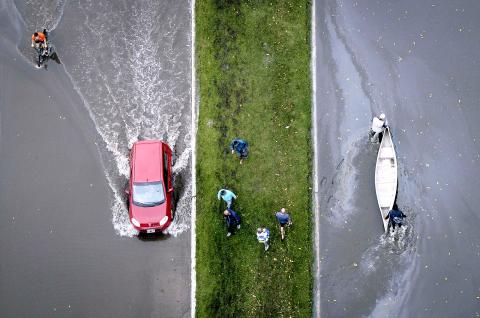 A boat and a car on a flooded street are seen in an aerial photograph after heavy rains in La Plata, Argentina, on Wednesday.
Photo: Reuters
The wreckage was overwhelming: piles of broken furniture, overturned cars, ruined food and other debris.
Their frustration was uncontainable as politicians arrived making promises. Argentine President Cristina Fernandez de Kirchner, Buenos Aires Province Governor Daniel Scioli, Argentine Social Welfare Minister Alicia Kirchner and the mayors of Buenos Aires and La Plata were all booed when they tried to talk with victims.
Many yelled "go away" and "you came too late."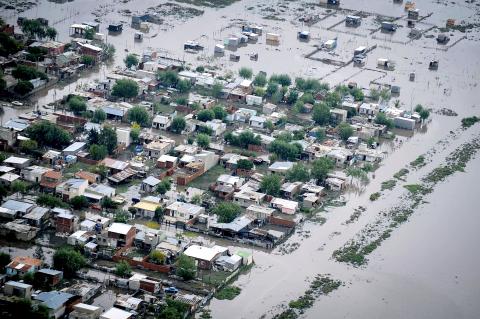 Flooded streets in La Plata, Argentina, are seen in an aerial photograph after heavy rains on Wednesday.
Photo: Reuters
"I understand you, I understand you're angry," Alicia Kirchner said before she and the governor fled in their motorcade from an angry crowd.
"There is no water, there is no electricity. We have nothing," said Nelly Cerrado, who was looking for donated clothing at a local school. "Terrible, terrible what we are going through. And no one comes. No one. Because here, it is neighbors who have to do everything."
The nearby Ensenada refinery, Argentina's largest, remained offline after flooding caused a fire that took hours to quench in the middle of the rainstorm, the state-run YPF oil company said. YPF said it would take them 36 more hours just to drain excess water from the damaged refinery, and at least another seven days before the refinery can renew operations.
The company also said it was putting into place an emergency plan to guarantee gasoline supplies, and would invest US$800 million to replace a damaged coking unit where the flood caused a fire with a newer, higher-capacity unit.
Scioli said the death toll had risen to 51 people in and around La Plata, following six deaths in the national capital from flooding two days earlier.
However, he said nearly all of the missing had been accounted for.
The victims included a member of the Grandmothers of the Plaza de Mayo human rights group, Lucila Ahumada de Inama, who was found under 1.7m of water inside her home.
She died without having found her grandson, born in captivity after her pregnant daughter-in-law was kidnapped by Argentina's dictatorship in 1977.
Several flooded residents were being lauded as heroes. Alejandro Fernandez, a 44-year-old policeman who was off-duty when the rains started, pulled out his rubber boat and shuttled about 100 neighbors to higher ground. His neighbor, Dr Jose Alberto Avelar, turned his home into a clinic, treating dozens for hypothermia.
Fernandez "won't say it, because he's too humble, but what he did was incredible," Avelar said. "His action got everyone else helping as well."
A store and an elementary school were looted, but police and troops were helping residents guard neighborhoods to prevent more crimes. In addition to 750 provincial police officers, the national government sent in army, coast guard, police and social welfare workers.
Mobile hospitals were activated after two major hospitals were flooded, and government workers were handing out donated water, canned food and clothing. Argentine provincial Health Minister Alejandro Collia said hepatitis shots were being given at 33 evacuation centers, and that spraying would kill mosquitoes that spread dengue fever.
"The humanitarian question comes first. The material questions will be resolved in time," said Scioli, who promised subsidies, loans and tax exemptions for the victims.
Comments will be moderated. Keep comments relevant to the article. Remarks containing abusive and obscene language, personal attacks of any kind or promotion will be removed and the user banned. Final decision will be at the discretion of the Taipei Times.