Connecticut lawmakers unveil gun control plan
'RISE ABOVE POLITICS': The lawmakers said the bipartisan passage of the measures in the Democrat-led legislature should send a message to other states and Washington
Connecticut lawmakers are expected to vote today on sweeping proposals to curb gun violence, saying they hope to send a message across the US that a bipartisan agreement on gun control is possible in the wake of the horrific Newtown elementary-school shooting.
Legislative leaders on Monday revealed proposals spurred by the Dec. 14 school shooting in Newtown, Connecticut, following weeks of bipartisan, closed-door negotiations. Democrats control both chambers of the state legislature, making passage all but assured.
"Democrats and Republicans were able to come to an agreement on a strong, comprehensive bill," said Connecticut Senate President Donald Williams Jr, who called the proposed legislation the strongest, most comprehensive bill in the country. "That is a message that should resound in 49 other states and in Washington, DC. And the message is: We can get it done here and they should get it done in their respective states and nationally in Congress."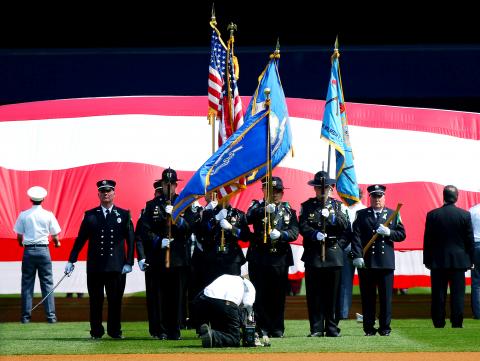 Members of the Newtown, Connecticut, first responders serve as the color guard as the national anthem is played before the game between the New York Yankees and the Boston Red Sox before opening day on Monday at Yankee Stadium in New York.
Photo: AFP
The Newtown massacre mass shooting reignited the gun debate in the US and led to calls for increased gun control legislation on the federal and state levels. While some other states, including neighboring New York, have strengthened their gun laws, momentum has stalled in Congress, whose members were urged by US President Barack Obama last week not to forget the shooting and to capitalize on the best chance in years to stem gun violence.
The Connecticut deal includes a ban on new high-capacity ammunition magazines like the ones used in the massacre at Sandy Hook Elementary School that left 20 children and six educators dead.
There are also new registration requirements for existing magazines that carry 10 or more bullets, something of a disappointment for some family members of Newtown victims, who wanted an outright ban on the possession of all high-capacity magazines and traveled to the state Capitol on Monday to ask lawmakers for it.
The package also creates what lawmakers said is the nation's first statewide dangerous weapon offender registry, creates a new "ammunition eligibility certificate," imposes immediate universal background checks for all firearms sales and extends the state's assault weapons ban to 100 new types of firearms and requires that a weapon have only one of several features to be banned.
The newly banned weapons could no longer be bought or sold in Connecticut, and those legally owned already would have to be registered with the state, just like the high-capacity magazines.
Connecticut Senate Minority Leader John McKinney, a Fairfield Republican whose district includes Newtown, said Republicans and Democrats have understood they needed to "rise above politics" when they decided to come up with a legislative response to the massacre.
"At the end of the day, I think it's a package that the majority of the people of Connecticut I know will be proud of," he said.
The bill also addresses mental health and school security measures, including gun restrictions for people who have been committed to mental health facilities and restoration of a state grant for school safety improvements.
After clearing the state legislature, the bill would be sent to Democratic Connecticut Governor Dannel Malloy, who has helped lead efforts to strengthen the state's gun laws, but has not yet signed off on the proposed legislation. Earlier on Monday, Malloy voiced support for the Newtown families and their desire to ban the possession of large-capacity magazines.
Comments will be moderated. Keep comments relevant to the article. Remarks containing abusive and obscene language, personal attacks of any kind or promotion will be removed and the user banned. Final decision will be at the discretion of the Taipei Times.