Italian president buying time in political deadlock
BRIDGE TO NOWHERE? Napolitano ruled out resigning to prepare for fresh elections, and said the government would remain in place until the impasse is resolved
Italian President Giorgio Napolitano on Saturday called for political parties to come to an agreement, but said Italian Prime Minister Mario Monti will remain in office until a deadlock created by last month's elections is resolved.
Napolitano also ruled out resigning — an extreme-case scenario mooted by some analysts that would have paved the way for early elections to end the impasse from polls that left no clear winner.
The president said he was setting up two working groups that will start work tomorrow to set out the most important reforms for any future government.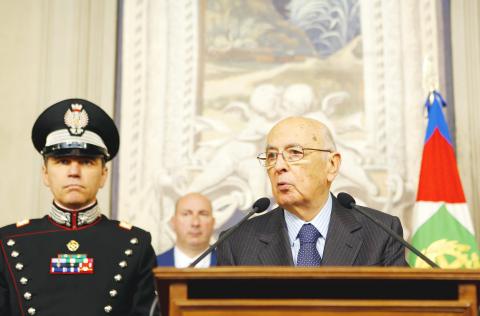 Italian President Giorgio Napolitano, right, speaks during a news conference at the Quirinale Palace in Rome, Italy, on Saturday.
Photo: Bloomberg
The first group will focus on political reforms and is made up of four people, including three political figures from the right, center and left wings.
A second group on economic issues will have six members, including the head of Italy's anti-trust agency and Italian European Affairs Minister Enzo Moavero.
Italy's political leaders should have "a greater sense of responsibility," Napolitano said, adding that the parties so far had "distinctly different positions" on the future government.
He also said Monti, a former European commissioner drafted in to drag Italy out of the eurozone debt crisis in 2011, represented "an element of certainty."
Pier Luigi Bersani's center-left coalition, which secured the most votes in the February elections, but failed to win a majority, has ruled out an alliance with former Italian prime minister Silvio Berlusconi's center-right grouping, which came a very close second.
Bersani was asked by Napolitano on March 22 to try to form a government, but said on Thursday that his efforts had come to nothing, after he failed to woo rival parties to support his Cabinet.
Berlusconi, the scandal-tainted billionaire tycoon who has been prime minister three times in a 20-year political career, has said a cross-party deal is the only viable solution.
The anti-establishment Five Star Movement party, which came in third, has ruled out support for a political party Cabinet, but has left open the possibility of backing a government made up of non-political figures.
Paolo Becchi, a law professor close to the Five Star Movement, said Napolitano's announcement meant "prolonging the current government."
"We can take our time. This does not mean there will be institutional anarchy as many people said," Becchi said.
Stefano Folli, a columnist for Il Sole 24 Ore daily, said the idea of the working groups was "a framework to find points of agreements" between parties.
"It appeals to a large political group ... It is good because it does not ask too much of the parties," he said.
However, business leaders have warned that bickering politicians have no time to lose as Italy endures a painful recession and severe unemployment.
"Mission Impossible," "Have Pity Please" and "Paralysis," read some of the newspaper headlines for the eurozone's third-largest economy.
Italians fed up with austerity and corruption voted in droves for the Five Star Movement, which is now Italy's single biggest party.
Developments in Italy are being closely watched by European capitals under similar pressure over budget cuts, as well as investors concerned that Italy could plunge back into the turmoil of the eurozone debt crisis.
The financial markets have been relatively muted so far — mainly because of confidence in Monti — but analysts say there needs to be more certainty before markets open tomorrow.
The government is forecasting the economy will shrink by 1.3 percent this year, and some analysts predict the end result could be even worse.
Despite winning praise abroad, Monti came a distant fourth in the polls at the head of a centrist coalition as the social cost of his measures has become increasingly evident.
Analysts have said there could be support for a government made up of non-political figures similar to Monti's, but this solution would be a stopgap.
Most analysts say Italy will be forced to hold new elections within months at the earliest or a year at the latest, since stability is unlikely with the current three-way split between parties.
Comments will be moderated. Keep comments relevant to the article. Remarks containing abusive and obscene language, personal attacks of any kind or promotion will be removed and the user banned. Final decision will be at the discretion of the Taipei Times.