Myanmar violence kills at least 20
Burning fires from two days of Buddhist-Muslim violence that killed at least 20 people smoldered across a central Myanmar town yesterday as residents cowered indoors amid growing fears the country's latest bout of sectarian bloodshed could spread.
The government's struggle to contain the unrest in Meikhtila is proving another major challenge for Burmese President Thein Sein's reformist administration as it attempts to chart a path to democracy after nearly half a century of military rule that once crushed all dissent.
The scenes in Meikhtila, where homes and at least five mosques have been torched by angry mobs, were ominously reminiscent of the sectarian violence between ethnic Rakhine Buddhists and Muslim Rohingya that shook western Rakhine state last year, killing hundreds of people and driving more than 100,000 from their homes.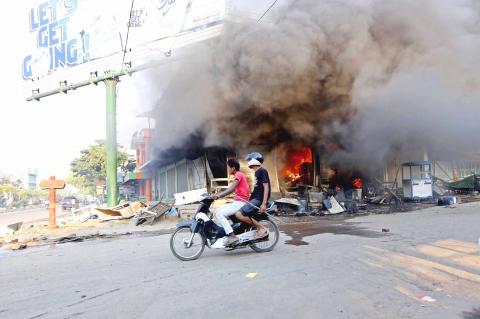 A man holding a rod rides on the back of a motorbike as it passes a burning building yesterday in a street of Meikhtila, central Myanmar.
Photo: EPA
The clashes in Meikhtila — which was tense, but calm yesterday — are the first reported in central Myanmar since then.
Troubles began on Wednesday after an argument broke out between a Muslim gold shop owner and his Buddhist customers. A Buddhist monk was among the first killed, inflaming tensions that led a Buddhist mob to rampage through a Muslim neighborhood.
Violence continued on Thursday, and by yesterday, Win Htein, a local lawmaker from the opposition National League for Democracy, said he had counted at least 20 bodies. He said 1,200 Muslim families — at least 6,000 people — have fled their homes and taken refuge at a stadium and a police station.
Police yesterday seized knives, swords, hammers and sticks from young men in the streets and detained scores of looters.
Fires set to Muslim homes continued to burn, but angry Buddhist residents and monks prevented authorities from putting out the blazes.
It was difficult to determine the extent of destruction in the town, because residents were too afraid to walk the streets and were sheltering in monasteries or other locations away from the violence.
"We don't feel safe and we have now moved inside a monastery," said Sein Shwe, a shop owner. "The situation is unpredictable and dangerous."
Some monks accosted and threatened journalists trying to cover the unrest, at one point trying to drag a group of several out of a van. One monk, whose face was covered, shoved a dagger at the neck of an Associated Press photographer and demanded his camera. The photographer defused the situation by handing over his camera's memory card.
The group of nine journalists took refuge in a monastery and stayed there until a police unit was able to escort them to safety.
The UN secretary-general's special adviser to Myanmar, Vijay Nambiar, issued a statement expressing "deep sorrow at the tragic loss of lives and destruction."
He said religious and community leaders to must "publicly call on their followers to abjure violence, respect the law and promote peace."
Comments will be moderated. Keep comments relevant to the article. Remarks containing abusive and obscene language, personal attacks of any kind or promotion will be removed and the user banned. Final decision will be at the discretion of the Taipei Times.