Iraqi Sunnis rally at slain protesters' funerals
Thousands of mourners rallied on Saturday at funerals for Sunni Muslims shot by troops in demonstrations against Shiite Iraqi Prime Minister Nuri al-Maliki.
Troops on Friday shot dead five people in Fallujah, in the Sunni-dominated western province of Anbar.
Sunnis have taken to the streets since last month to protest what they call mistreatment of their minority sect, heightening fears Iraq may return to the Shiite-Sunni bloodletting that killed tens of thousands of people in 2006 and 2007.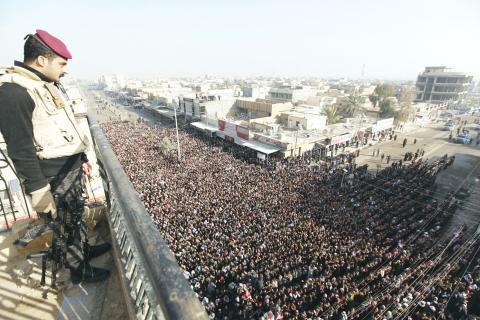 A policeman on Saturday stands guard during the funeral of victim killed in clashes with security forces in Fallujah, 50km west of Baghdad, Iraq.
Photo: Reuters
The protests have been accompanied by an increase in attacks by Islamist insurgents and the Iraqi wing of al-Qaeda. Four suicide bombers have struck over the past weeks, including one who killed a Sunni lawmaker in Fallujah. Fallujah's streets filled with thousands, many taking turns to carry the coffins of slain protesters. Others waved portraits of victims or the national flag used in former Iraqi president Saddam Hussein's era.
The Iraqi parliament passed a law imposing term limits on the prime minister's post in an attempt to block al-Maliki's re-election, although the legislation faces legal challenges in a top court.
Iraqi authorities have tried to calm anger over the shootings by withdrawing soldiers from the city and replacing them with federal police, but protesters want more concessions.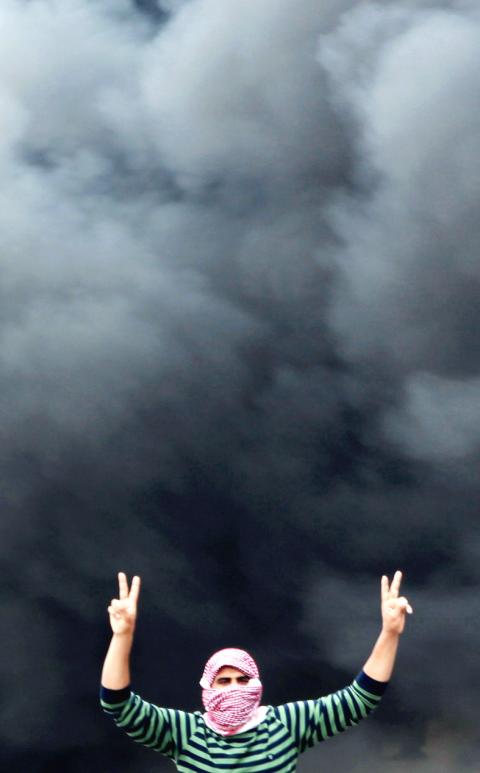 A Sunni protester flashes the victory sign while standing next to heavy smoke during clashes with security forces in Fallujah, Iraq, on Friday.
Photo: EPA
"Withdrawing the army from the city is not enough, I do not know how this will benefit me and it won't get my brother back," said Mustafa Jamal, a relative of a slain protester.
Al-Maliki has also tried to appease Sunni protesters by releasing more than 1,000 detainees and appointing a senior Shiite figure to negotiate over Sunni demands. Anbar clerics and hardline tribal sheiks say that is not enough either.
Anbar Province stretches across one-third of Iraq and was once al-Qaeda's base to fight US troops.
Sunni tribes in cities like Fallujah and Ramadi then turned against al-Qaeda to help US forces, but tribal sheiks complain that the Baghdad government has failed to provide jobs for their fighters who helped turn the tide of the war.
Many Sunnis want reforms to anti-terrorism laws they feel unfairly target them and more control over a campaign against former members of Saddam's outlawed Baath Party. However, Sunni ranks are split, with more hardliners calling for al-Maliki's ouster.
In another challenge to al-Maliki, lawmakers on Saturday passed a law limiting the prime minister to two terms. However, that measure appeared a symbolic victory as it needs the president's approval and faces challenges in court.
Since the fall of Saddam in 2003, many Iraqi Sunnis feel they have been sidelined by the Shiite leadership and believe al-Maliki is amassing power at their expense.
After the last US troops left Iraq a year ago, the country's Shiite, Sunni Muslim and ethnic Kurdish parties became locked in a power-sharing stalemate that has left key oil and investment laws paralyzed in parliament.
However, lawmakers from Sunni, Kurdish and Shiite parties voted to pass the term limits law on Saturday.
It would limit the prime minister, parliamentary speaker and president to two four-year terms. First elected in 2005, al-Maliki was re-elected in 2010 in an indecisive ballot that led to the power-sharing deal.
"This means al-Maliki cannot be prime minister any more. This will stop people consolidating power in their hands," Sunni lawmaker Jaber al-Jaberi said.
Kurdish parties, the Sunni-backed Iraqiya bloc and even some rivals in al-Maliki's own Shiite coalition tried unsuccessfully last year to trigger a vote of no confidence in the prime minister.
"This is an illegal law passed by al-Maliki's opponents who fear facing him at ballot boxes," said Ali al-Shallah, a lawmaker with al-Maliki's alliance.
Comments will be moderated. Keep comments relevant to the article. Remarks containing abusive and obscene language, personal attacks of any kind or promotion will be removed and the user banned. Final decision will be at the discretion of the Taipei Times.