FEATURE: Asian casinos are thriving, but locals are not welcome
The casino industry is booming across Asia, offering anyone looking for high-stakes action a wide choice of venues, from high-tech South Korea to the Himalayan nation of Nepal and communist Vietnam.
Anyone, that is, except South Koreans, Nepalese or Vietnamese.
For conservative Asian countries, the financial pros and social cons of casino gambling pose something of a dilemma — one that several have chosen to resolve by adopting a foreigner-only access policy.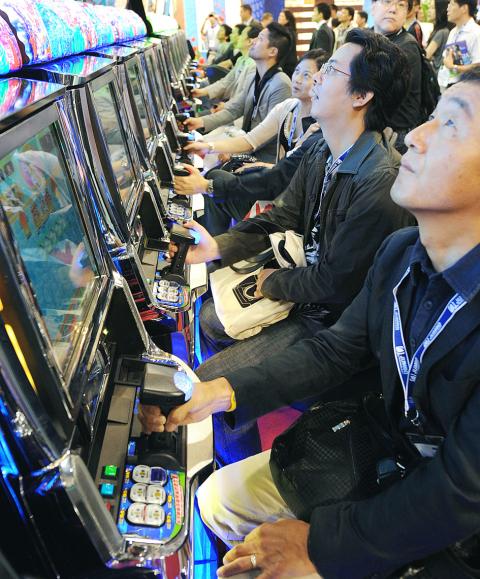 Visitors to the Global Gaming Expo check out the latest gambling wares at the exhibition in Macau on June 8, 2011.
Photo: AFP
The upsides are obvious in a region where rapid development has nurtured a taste and capacity for high-end leisure activities. Casinos provide a consistent source of hard currency revenue, fuel tourism — especially from sought-after high rollers from China — and boost the local economy.
Macau, now the world's largest gaming hub, last year saw its gaming revenue jump 13.5 percent to a record US$38 billion.
However, the social impact of gambling is equally well documented, in terms of addiction and broken families, as well as criminal activities like loan-sharking.
So a number of Asian countries have tried to have their cake and eat it, by building glitzy casinos, but barring — or strictly limiting — entry to their own citizens.
Kim Jin-gon, director of tourism in South Korea's Culture Ministry, cited a widely held belief that South Koreans are particularly susceptible to gambling addiction.
"Our feeling is that [South] Korea does not have a mature culture that could enjoy gambling simply as a leisure activity," Kim said. "We block Koreans from casinos because the fallout would be too big."
South Korea's ban is not total. Of the country's 17 licensed casinos, one — Kangwon Land Resort — is open to locals.
Its remote location in a mountainous area, several hundred kilometers and a three-hour express bus ride from Seoul, was supposed to deter salary-people from nightly excursions during the working week.
However, special "bullet taxis" offer a high-speed, white-knuckle service that promises to get punters there in half the time, and attendance and revenue figures seem to support the theories about South Koreans' proclivity for gambling.
Kangwon Land pulls in an average 10,000 visitors a day — about five times the actual seating capacity — and boasted revenue of nearly 1.2 trillion won (US$1.1 billion) in 2011, more than all the 16 foreigner-only casinos combined.
This despite rules that restrict any individual from gambling more than 15 days a month — ID cards must be shown — and impose a maximum house wager of 300,000 won.
The overcrowding led to calls for other casinos to be opened to South Koreans, but the government has resisted, insisting that Kangwon Land was a one-off project with the sole aim of revitalizing an economically depressed area.
Kim warned that other casinos, especially in major cities, would be swamped if access was extended to all.
"If we let South Koreans in, there would be no room left for foreigners, which would defy the whole purpose of the casinos in the first place," he said.
Nepal and Vietnam operate 100 percent foreigner-only casino policies, although in the case of Nepal it is a regulation often observed in the breach.
Vietnam's first casino opened in 1992 and there are now seven, with two more in the pipeline.
According to the Vietnamese finance ministry, casinos last year generated about 1.5 trillion dong (US$72 million) in tax revenues.
For Vietnamese, all gambling apart from a state-run lottery is banned, although illegal betting — on everything from cock-fighting to English Premier League football matches — is widespread.
While Vietnamese gamblers have no access to a place like Kangwon Land, they can simply cross into Cambodia, where huge casinos have been built near the border that cater almost exclusively to Vietnamese tourists.
Needless to say, Cambodians are not legally allowed to gamble in their own casinos, though presumably they would be welcomed at those in Vietnam.
Perhaps aware of the contradictions thrown up by foreigner-only policies, Singapore has opted for a compromise of open casino access, but with special restrictions for the island-state's citizens and long-term residents.
A S$100 (US$81) entry fee aimed to filter out low-income gamblers, while any Singaporean who had filed for bankruptcy or received long-term financial state aid was automatically barred.
After a 2011 official survey showed an increasing proportion of low-income gamblers playing with large sums, the ban was expanded in June last year to include the unemployed and those on short-term welfare. Casinos that fail to comply face a maximum fine that used to be capped at S$1 million, but can now reach as high as 10 percent of annual gross gaming revenue.
Despite these measures, Singaporean Prime Minister Lee Hsien Loong (李顯龍) said during a visit to Australia in October last year that his government was still "watching anxiously" to determine the impact of the casino experiment.
"From a social point of view, we would like to say that it has been all right, but it is too early to say because the casinos have been operating only for two years and a half," Lee said.
Commercially, Singapore's two casino resorts have been an undeniable success, with a combined gaming revenue of about US$5 billion in 2011.
That level of return has fueled debate in countries like Japan about lifting its ban on casinos, which forces Japanese gamblers to travel to South Korea, Macau and Singapore to play the tables.
Taiwanese, meanwhile, may soon have a domestic option after the residents of Matsu voted in July last year to open the country's first legal casino.
The casino would be open to everyone except, perhaps inevitably, Matsu residents themselves.
Comments will be moderated. Keep comments relevant to the article. Remarks containing abusive and obscene language, personal attacks of any kind or promotion will be removed and the user banned. Final decision will be at the discretion of the Taipei Times.