FARC's two-month unilateral ceasefire ends, deemed successful by analysts
A unilateral ceasefire by Colombia's main leftist rebel group that ended at midnight on Sunday was deemed largely successful by analysts, who say it showed that divisions in the insurgency's ranks are relatively minor.
The rebels' main negotiator in peace talks taking place in Cuba, Ivan Marquez, offered on Sunday to extend the two-month ceasefire if the government would agree to embrace it.
An alternative, Marquez told reporters in Havana as he headed into peace talks centering on agrarian reform, could be to "regularize the war" by obtaining promises from the government that it would stop placing military bases in population centers.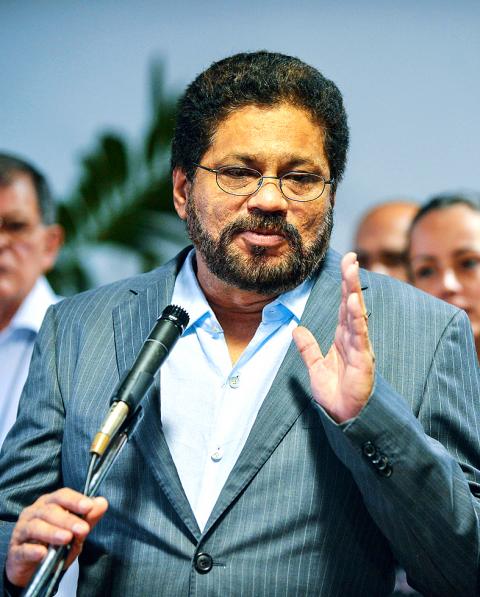 Ivan Marquez, Revolutionary Armed Forced of Colombia's main negotiator in peace talks, announces the end of a two-month unilateral ceasefire on Sunday upon his arrival at the Convention Palace in Havana, Cuba, for peace talks with the Colombian government.
Photo: AFP
There was no immediate response from the government, though Colombian President Juan Manuel Santos has refused to halt hostilities during peace talks that formally began in Havana in November after six months of secret negotiations.
In a communique published on Sunday, the Revolutionary Armed Forces of Colombia, or FARC, said it had not mounted "even a single attack on bases or fixed installations of the armed forces, nor on police barracks or posts."
It said that any casualties suffered by Colombia's security forces were dealt in self-defense. The FARC said that during the same period a year earlier it had killed at least 284 security force members and wounded 278.
The rebels did not say how many casualties it had suffered during the unilateral ceasefire, but at least 33 were killed in at least two major aerial bombardments on rebel camps.
There were sporadic guerrilla attacks, but analyst Jorge Restrepo of the independent CERAC think tank said they exhibited "relatively minor divisions within the FARC" about whether a unilateral ceasefire was appropriate.
The Nuevo Arco Iris think tank said guerrilla actions during the period fell 87 percent from the year-before two-month period, according to its director, Leon Valencia.
He said it counted nine hostile offensive actions out of a total of 41, with the rest being defensive or resulting from unintentional contact with security forces.
Military officials said they were prohibited from providing numbers on combat or casualties during the two months.
The national ombudsman, Jorge Armando Otalora, said in a report on Friday that there had been 57 attacks by rebels against civilians or security forces, an average of one per day.
One of them was an attack on a police post in the municipality of Guapi on Dec. 31 in which two police and four civilians were wounded.
The FARC is believed to number about 8,000 fighters, down from about twice that amount a decade ago. Colombia's US-backed military dealt it a series of withering blows during that time, including killing three members of its ruling secretariat. Colombia's neazrly half-century-old conflict has claimed tens of thousands of lives, most of them civilians.
Comments will be moderated. Keep comments relevant to the article. Remarks containing abusive and obscene language, personal attacks of any kind or promotion will be removed and the user banned. Final decision will be at the discretion of the Taipei Times.