Bangladesh war crimes tribunal orders cleric executed
A Bangladesh tribunal yesterday sentenced an Islamic cleric tied to a fundamentalist party to death for crimes against humanity for his actions during the country's 1971 independence war.
The conviction of Abul Kalam Azad was the first verdict handed down by a controversial tribunal trying people accused of committing crimes during the war.
Azad, a member of the Jamaat-e-Islami party, was tried in absentia after he reportedly fled to Pakistan in April last year upon being charged.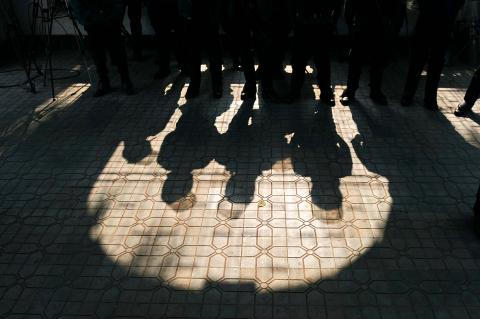 Shadows of police are seen as they stand guard yesterday at the International Crimes Tribunal court premises in Dhaka, Bangladesh.
Photo: AFP
Jamaat-e-Islami campaigned in 1971 against Bangladesh's war of separation from Pakistan. The party stands accused of supporting, or in some cases taking part in, atrocities committed by Pakistani troops.
Bangladesh says that during the nine-month war, Pakistani troops, aided by their local collaborators, killed 3 million people and raped about 200,000 women.
International human rights groups have raised questions about the conduct of the tribunals set up by the government to prosecute those accused of war crimes.
New York-based Human Rights Watch has complained about what it said were flaws in the process — including the disappearance of a defense witness outside the courthouse gates.
The judge presiding over another tribunal resigned last month after the British publication The Economist reported that it had evidence of Skype and e-mail conversations between him and a Belgium-based Bangladeshi lawyer that raised serious questions about the workings of the tribunal.
The courtroom was packed yesterday as Obaidul Hassan, the head judge of a separate, three-member tribunal, pronounced Azad guilty of crimes that included murder, abduction and looting.
Hassan said Azad was "guilty of crimes against humanity beyond a reasonable doubt."
Other top leaders of Jamaat-e-Islami also face prosecution.
Jamaat-e-Islami — a partner in opposition leader Khaleda Zia's Bangladesh Nationalist Party former government — says the charges are politically motivated.
Authorities deny the claim.
Zia, the longtime political rival of Bangladeshi Prime Minister Sheikh Hasina, has called the war crimes tribunal a farce.
Hasina, in turn, has urged Zia to stop backing those she says fought the nation's quest for independence.
Comments will be moderated. Keep comments relevant to the article. Remarks containing abusive and obscene language, personal attacks of any kind or promotion will be removed and the user banned. Final decision will be at the discretion of the Taipei Times.