France continues airstrikes in Mali
'SIGNIFICANT' GAINS: The strikes come as the group behind the deadly Algerian hostage crisis vowed more attacks against nations that support the Mali campaign
The French military used fighter planes and helicopter gunships to carry out a dozen operations over the weekend in Mali, while an extremist group threatened to carry out attacks against countries taking part in the intervention to oust the Islamists from their strongholds.
France said it had targeted "terrorist vehicles" in six of the strikes over the past 24 hours and that the campaign against the militants was making progress.
In an interview with France-5 TV, French Minister of Defense Jean-Yves Le Drian said he was not aware of any civilian casualties.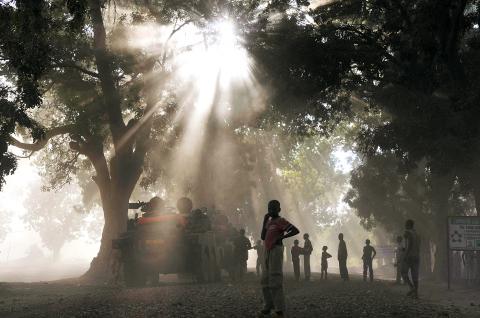 Youths stand next to French army tanks in a street in Niono, Mali, on Sunday.
Photo: AFP
He said the airstrikes had caused "significant" — though unspecified — losses among the jihadists and only minor skirmishes involved French forces on the ground.
French forces have extended their deployment northward from the central town of Markala, reinforcing their presence in the towns of Niono and Mopti, French military spokesman Colonel Thierry Burkhard said.
About 200 French infantrymen supported by six combat helicopters and reconnaissance planes advanced yesterday toward the town of Diabaly, seized one week ago by Islamic extremists.
"The operation in Diabaly is currently ongoing,"' said Captain Romain, the deputy in charge of France's 21st Marine Infantry regiment, positioned in the town of Markala about 140km from the front line.
"We don't know what we will find there," he said of Diabaly, giving only his first name in keeping with French military policy.
On the road to Diabaly, there were scenes that indicated the area is returning to normal life. Women washed children in an irrigation canal, others washed clothes and placed them to dry on the banks. Families with suitcases and bags headed north in donkey-drawn carts, apparently returning home after fleeing the conflict.
On Sunday, the extremist group behind the deadly hostage crisis in Algeria threatened more attacks against foreign targets if France does not bring an immediate halt to its Mali operation. In a statement, the Masked Brigade warned of more such attacks against any country backing France's military intervention in Mali.
"We promise all the countries that participated in the Crusader campaign ... that we will carry out more operations if they do not reverse their decision," it said, a transcript released by SITE Intelligence Group showed.
France began its military offensive on Jan. 11 and has said that African nations must take the lead, although it could be some weeks before they are ready to do so.
Comments will be moderated. Keep comments relevant to the article. Remarks containing abusive and obscene language, personal attacks of any kind or promotion will be removed and the user banned. Final decision will be at the discretion of the Taipei Times.