Myanmar refugees swim into Malaysia: police
UNLUCKY ESCAPE: One man from a boatload of illegal immigrants was killed after being struck by a boat's propellers when he jumped into the sea
About 500 Burmese swam the last 500m to enter Malaysia illegally at the end of a 15-day boat journey at the weekend, leaving one dead, police said yesterday.
Police said they had so far found 482 people, including the captain of the 30m vessel, since Sunday and are looking for a "handful" more still hiding out on the northwestern island of Langkawi in the Malacca Straits.
They are believed to be one of the largest groups of Rohingya Muslims to have reached Malaysia this year after fleeing sectarian violence at home.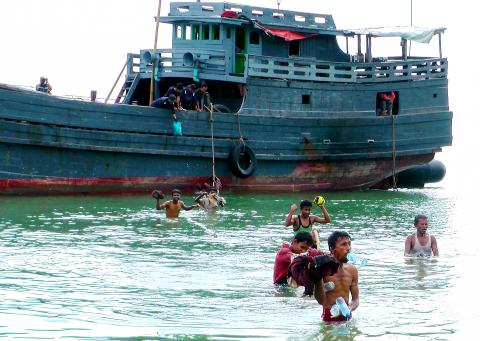 Rohingya Muslim refugees from Myanmar disembark at a beach on Langkawi Island, Malaysia, on Sunday.
Photo: AFP
Police said the immigrants claimed to have paid US$300 each to an agent in troubled Rakhine for the trip, which media reports said left most of them ill with some requiring hospital care.
Langkawi police chief Harrith Kam Abdullah said the captain of the boat was arrested on Monday, but he had denied any knowledge of payments to an agent.
The Star newspaper also reported that one man was killed after being hit by the boat's propellers when he jumped into sea and had been buried at a Muslim cemetery in Langkawi on Monday.
The immigrants have been handed over to the Malaysian immigration department to be processed at detentions centers nationwide.
Clashes between Buddhists and the Rohingya in Myanmar have left scores of people dead and displaced more than 115,000 people since June.
Thousands have sought refuge in Malaysia, a largely Muslim country that has a big Rohingya population.
Malaysia's maritime agency said last month it "rescued" 40 shipwreck survivors, who are thought to be Muslim Rohingya, who had been denied entry to Singapore.
Comments will be moderated. Keep comments relevant to the article. Remarks containing abusive and obscene language, personal attacks of any kind or promotion will be removed and the user banned. Final decision will be at the discretion of the Taipei Times.