Boy dies, more than 400 hurt in Manila New Year festivities
Celebratory gunfire killed a four-year-old boy and more than 400 others were injured by powerful firecrackers in typically rowdy New Year celebrations in the Philippine capital of Manila, officials said yesterday.
A bullet hit the boy in the back as he was playing outside his home in Manila's Mandaluyong District, city police Chief Superintendent Leonardo Espina said.
He said police launched an investigation to trace the gun owner, but admitted it may take time in a country where unlicensed firearms are widespread.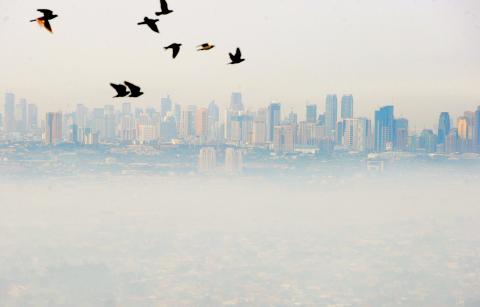 A thick blanket of smog caused by fireworks smoke covers an eastern section of Manila, the Philippines, yesterday — the morning after millions across the nation set off firecrackers and pyrotechnics to welcome in the new year.
Photo: AFP
"We caught 10 people firing indiscriminately, most of them were private security guards who were drunk," he said on DZBB radio.
Espina said policemen found to have fired their guns to usher in the new year would also be disciplined.
Philippine Secretary of Health Enrique Ona said 404 people nationwide were either burned or maimed by firecrackers, about half of them young children.
Among them was a teenage boy whose hand had to be amputated.
"He picked up what he thought was an unlit firecracker left on the road. It exploded in his hand," the boy's mother, Mariel Lou Pateno, said at the packed trauma section of a state hospital.
"We hope the numbers will not rise, but we are expecting more to arrive within the day," said Alfonso Nunez, one of the doctors at the hospital.
The city's fire department said 12 blazes were reported overnight, including a school that caught fire due to fireworks being let off near a sprawling slum area in Manila.
No one was injured in the fires, although dozens of families were left homeless, the fire department center said.
It is tradition in the mostly Catholic nation of about 100 million to greet the new year by making noise, in a belief that it will drive bad spirits away.
However, hundreds are hurt annually by firecrackers and stray bullets, despite strict orders from Philippine President Benigno Aquino III for police to clamp down on guns and ban powerful firecrackers.
Comments will be moderated. Keep comments relevant to the article. Remarks containing abusive and obscene language, personal attacks of any kind or promotion will be removed and the user banned. Final decision will be at the discretion of the Taipei Times.