Monti to head coalition in elections
Caretaker Italian Prime Minister Mario Monti said on Friday that he would contest elections in February next year at the head of a centrist coalition, driving a wedge between center-left and center-right parties.
"I agree to assume the role of head of the coalition and I will commit myself to guaranteeing the success of this operation," Monti said after meeting for four hours with representatives of centrist groups and civic organizations.
Monti, 69, announced a week ago that he would step down after 13 months at the head of an unelected team of technocrats that was appointed to steer Italy out of a financial crisis that could have had dire consequences for the entire 17-nation eurozone.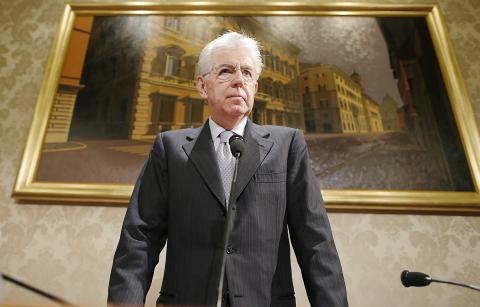 Caretaker Italian Prime Minister Mario Monti pauses during a news conference in Rome, Italy, on Friday.
Photos: Reuters
Technically, as an Italian senator for life, the former European commissioner cannot himself run for office, but is in a position to be renamed prime minister if a party or coalition he supports wins the vote on Feb. 24-25.
Monti is seen as a recourse to prevent scandal-tainted former Italian premier Silvio Berlusconi from returning to power and undoing hard-won reforms.
The "Monti Agenda" proposes to cut public funds for political parties and parliamentary groups, and also includes measures to make more room for women and environmental issues.
Monti could bar the route for Berlusconi, who is running for the premiership for the sixth time in 18 years, but who is now isolated on the right side of the political spectrum with support from anti-tax and anti-euro factions.
Analysts had expected Pier Luigi Bersani of the center-left Democratic Party to be named prime minister and to then appoint Monti as a "super economy minister."
Berlusconi, who is appealing an October conviction for tax fraud and is on trial for having sex with an underage prostitute, has made proposals, including the abolition of a new property tax that Monti has called "very dangerous and illusory."
A Monti-backed reform coalition is likely to steal votes from both Bersani and Berlusconi, who has virulently lambasted Monti's pro-Europe austerity policies.
Monti has been endorsed by European leaders, the markets and the Roman Catholic Church.
Comments will be moderated. Keep comments relevant to the article. Remarks containing abusive and obscene language, personal attacks of any kind or promotion will be removed and the user banned. Final decision will be at the discretion of the Taipei Times.