Syria's al-Assad refuses to step down: special envoy
FIRM STANCE: According to Russia's foreign minister, the Syrian opposition has to rethink their position that only al-Assad's departure would enable talks to start
Syrian President Bashar al-Assad told UN and Arab League special envoy Lakhdar Brahimi this week that he will not quit before his term ends in 2014, Russian Foreign Minister Sergei Lavrov said yesterday.
"It's impossible to change his position," Lavrov said at a joint press conference after talks with Brahimi in Moscow.
Russia, Syria's main international backer, on Friday called on al-Assad to make efforts toward a political settlement by holding dialogue with the opposition on all possible options. The US and Russia, which have clashed over efforts by US President Barack Obama's administration to oust al-Assad, are working together in a bid to negotiate a peaceful outcome to the uprising that started in March last year.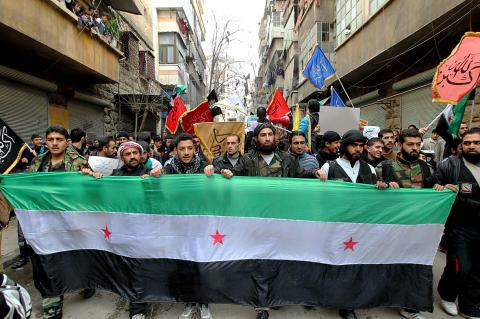 Members of the Free Syrian Army hold a giant opposition flag during a protest against Syrian President Bashar al-Assad in Aleppo, Syria, on Friday.
Photo: Reuters
"When the opposition says that only al-Assad's departure would allow for the start of talks on the fate of country — we think that's incorrect," Lavrov said.
Maintaining that position is fueling the death toll, he said.
The 21 months of violence, which has pitted the mainly Sunni Muslim opposition against the Alawite-dominated security forces, has killed more than 44,000 people, according to the UK-based Syrian Observatory for Human Rights. The conflict is becoming increasingly sectarian, Lavrov and Brahimi said yesterday.
Brahimi, who met al-Assad and opposition representatives in Damascus last week, is proposing an interim government with full executive powers to prepare for elections in Syria.
Russia on Friday said it has invited Mouaz al-Khatib, head of the united Syrian opposition grouping, for talks to discuss a solution to the fighting in Syria. Al-Khatib, head of the National Coalition of Syrian Revolutionary and Opposition Forces, said on Friday that while he will not travel to Moscow, he is open to talks, al-Jazeera TV reported.
He also demanded from Russia a "clear condemnation of the crimes committed by the Syrian regime," according to al-Jazeera.
Russia is prepared to meet the opposition in a "neutral venue," Lavrov said yesterday, adding that it was in al-Khatib's political interests to hear the Russian position. The talks could be in Moscow, Geneva or Cairo, Russian Deputy Foreign Minister Mikhail Bogdanov said on Friday, state news service RIA Novosti reported.
"If they feel Russia has a useful role to play in this drama, they should be ready to meet Russian representatives without any preconditions," Lavrov said.
The US and Russia are to hold a joint meeting next month with Brahimi to discuss the efforts to reach an agreement on Syria, Bogdanov said, according to RIA Novosti..
Meanwhile, forces loyal to al-Assad yesterday seized a district of the central city of Homs after a fierce assault that sparked a humanitarian crisis, the Syrian Observatory for Human Rights said.
"The army launched an offensive several days ago on the neighborhood of Deir Baalbeh with heavy bombing, and the fighting and attacks continued until the rebels withdrew," it said.
The Britain-based watchdog, which relies on a large network of activists and medics on the ground, said that several other rebel districts, long under siege by the army, were still holding the troops at bay.
Comments will be moderated. Keep comments relevant to the article. Remarks containing abusive and obscene language, personal attacks of any kind or promotion will be removed and the user banned. Final decision will be at the discretion of the Taipei Times.