Kishida seeks to mend ties with China
UNRESOLVED ISSUES: Japanese Prime Minister Shinzo Abe also wants to restart peace treaty talks with Russia, as the two nations never signed a post-World War II agreement
Japan's new foreign minister said on Friday he would work to patch up ties with China, soured over a bitter territorial row that has blighted relations for months.
"I believe it is very important to have good communication between the two governments, as well as between two foreign ministers," Japanese Minister of Foreign Affairs Fumio Kishida said in an interview with journalists.
"It is primarily important that I, as foreign minister, make the effort to deepen communications between the two countries," he said.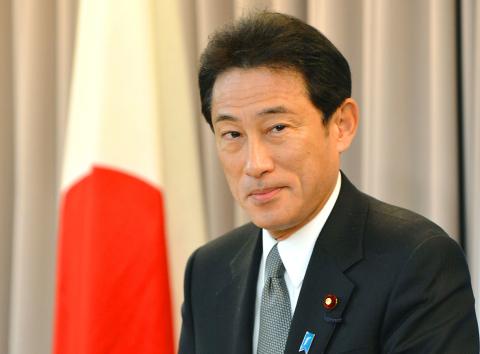 Japanese Minister of Foreign Affairs Fumio Kishida attends a news conference in Tokyo, Japan, on Friday.
Photo: AFP
Kishida, seen as a relative dove in the government of hawkish new Japanese Prime Minister Shinzo Abe, begins the top diplomatic job as ties with China show few signs of improving following an ill-tempered territorial stand-off.
Abe won conservative support in national polls earlier this month with his forthright pronouncements on a group of East China Sea islands that Tokyo controls, vowing not to budge on Japan's claim to the Diaoyutai Islands (釣魚台).
Taiwan and China also claim the islands, which are known as the Senkakus in Japan.
Additionally, Abe has said he would consider revising Japan's post-war pacifist constitution, alarming officials in Beijing and Seoul.
However, he has quickly toned down the campaign rhetoric and has said he wants improved ties with China, Japan's biggest trading partner. He called for a solution through what he described as "patient exchange."
"I am aware that some view the new Cabinet as right-leaning," Kishida said. "As a state, we need to do whatever we need to do to construct firm national security."
Kishida, 55, a former banker who leads a liberal faction in the governing Liberal Democratic Party, was an unexpected pick by Abe.
However, his experience as a state minister in Abe's Cabinet during his first prime ministerial incarnation, dealing with territorial disputes with Russia and in Okinawan affairs, proved a plus.
Japan and Russia have never signed a post-World War II peace treaty because of an unresolved spat over the ownership of islands to the north of the archipelago.
In Okinawa, the presence of a large number of US military personnel is a major source of contention for the local population, but a vital strand of Tokyo's defense pact with Washington.
On Friday, Abe agreed with Russian President Vladimir Putin to restart talks on a peace treaty between the two nations, an official said.
In a 20-minute telephone conversation, Abe, who was formally elected to his second stint as Japan's prime minister on Wednesday last week, also agreed to visit Russia at an "appropriate" date next year, the Japanese official said.
Abe's predecessor, Yoshihiko Noda, had planned to visit Russia this month, but the trip was canceled due to a problem with Putin's health, Japanese media said.
Those reports were immediately denied by Putin's spokesman who said the trip had not been definitively scheduled and that it could take place next month.
In the conversation, Abe told Putin that their two countries should work hard to find a "mutually acceptable solution" to the island row, the official said.
Russia and Japan have long been at odds over the southern Kuril Islands, which Soviet forces seized in the last days of World War II, driving away Japanese inhabitants. Tokyo refers to them as its "Northern Territories."
Putin told Abe that "there is a need to instruct the foreign ministries of both countries to activate the process regarding the peace treaty," the official said.
Russian Prime Minister Dmitry Medvedev provoked fury in Japan when he visited the islands earlier this year, adding to a hugely controversial visit he made while serving as president in November 2010.
Comments will be moderated. Keep comments relevant to the article. Remarks containing abusive and obscene language, personal attacks of any kind or promotion will be removed and the user banned. Final decision will be at the discretion of the Taipei Times.