More rape protests despite ban
SEVERE MEASURES: The gang rape of a student has triggered calls from Indian politicians and protesters to introduce capital punishment for rapists
Police in India's capital have used water cannons and batons for a second day to break up protests by hundreds of people demonstrating against the gang rape and brutal beating of a student on a bus.
Demonstrations continued yesterday despite Indian Home Minister Sushilkumar Shinde promising to consider the protesters' demands for death penalties for all six suspects who have been arrested by police following the Dec. 16 attack.
Shinde also said on Saturday that the government was taking steps to better ensure the safety of women.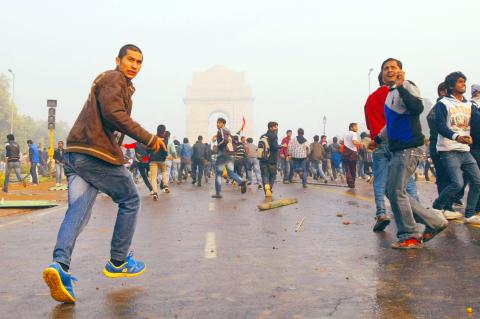 Demonstrators in front the India Gate monument in New Delhi, India, yesterday fall back as riot police unleash water cannons and tear gas during a protest calling for better safety for women following the gang rape of a medical student last week.
Photo: AFP
A group of protesters met governing Congress party head Sonia Gandhi yesterday and demanded a speedy trial of the suspects.
Police yesterday banned protests in central New Delhi following a wave of violent demonstrations over the savage gang-rape of a medical student a week ago, an official statement said.
Areas close to the president's residence and the parliament have been declared off-limits to protesters, it said.
Thousands of protesters, most of them college students, rallied at the India Gate monument in the heart of the Indian capital on Saturday, demanding death penalty for the accused and better safety for women.
Early yesterday morning, police cordoned off all the routes leading to landmark government buildings and said that they had detained a group of protestors citing the prohibitory orders.
Six drunk men were joyriding in a bus when they picked up the physiotherapy student and her 28-year-old male companion on Sunday last week.
They took turns raping her before throwing the pair off the speeding vehicle.
During her ordeal the victim suffered serious intestinal injuries from being beaten with an iron rod.
The attack has triggered calls to introduce capital punishment for rapists and the government has said it is considering bringing in legislation to allow judges to hand down the death penalty for the most extreme assaults.
The government on Friday said it would press for life sentences for the woman's six attackers and promised stricter policing.
Ravi Shankar Prasad, spokesman for India's main national opposition Bharatiya Janata Party (BJP), said New Delhi "is becoming the rape capital" of India.
The number of rape cases in New Delhi has risen 17 percent to 661 this year from a year ago, according to government figures, the highest number among India's big cities.
Experts say a combination of abusive sexual behavior, a scant fear of the law and India's creaky judicial system encourage such attacks in the bustling city.
BJP opposition leader Sushma Swaraj has demanded that rapists receive the death penalty.
Shinde said the Congress-led government would look at "enhanced punishment in the rarest of rare rape cases" — a reference to capital punishment.
The current maximum penalty for rape is life imprisonment and "it [the death penalty] will have to be discussed in detail," Shinde told a news conference on Saturday.
India has executed two people since 2004 — one of whom was Mohammed Kasab, the sole surviving gunman from the 2008 Mumbai attacks.
Comments will be moderated. Keep comments relevant to the article. Remarks containing abusive and obscene language, personal attacks of any kind or promotion will be removed and the user banned. Final decision will be at the discretion of the Taipei Times.