Chavez making slow, but steady recovery: relative
SURGICAL SUCCESS? The Venezuelan government has said Chavez suffered some complications during the six-hour surgery to remove an undisclosed type of cancer
Venezuelan President Hugo Chavez is in full control of his mental faculties and has been talking with his children and getting daily visits from former Cuban president Fidel Castro while recovering slowly from cancer surgery in Cuba, his son-in-law said on Saturday.
Chavez has been recovering favorably despite some "moments of tension" after Tuesday's surgery and is now in a "process of stabilization," Venezuelan Minister of Science and Technology Jorge Arreaza said on Venezuelan television in a telephone call from Havana.
It is unclear when Chavez might be well enough to return home, but Venezuelan Minister of Information Ernesto Villegas expressed hope it could be soon. Chavez, who was re-elected in October, is due to be sworn in for another six-year term on Jan. 10.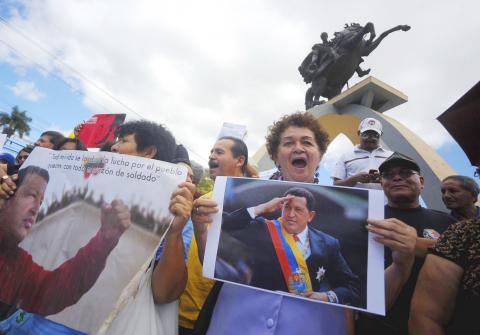 Supporters of Venezuelan President Hugo Chavez attend a rally to pray for Chavez's health in Tegucigalpa, Honduras, on Saturday.
Photo: Reuters
"We're extremely hopeful that the president may be with us very soon, but it would also be irresponsible on my part to speak of dates," Villegas told reporters.
"We're confident that President Chavez will be here to take office on Jan. 10. Now, in the event that weren't possible, our people would have to be prepared to understand it," Villegas said.
He spoke during a ceremony in downtown Caracas attended by Venezuelan Vice President Nicolas Maduro and other government officials as well as visiting leaders from other countries.
Arreaza's phone call became the centerpiece of the televised ceremony, and he said Castro has come to see Chavez every day since the surgery.
"He always stops by to personally find out about El Comandante's health condition and also to share his knowledge with all of us, and to give the family courage and encouragement," said Arreaza, who is the husband of Chavez's eldest daughter, Rosa.
Chavez has long shared a close friendship with Castro, describing him as being like a father and mentor.
The 58-year-old Venezuelan leader underwent his fourth cancer-related operation in Cuba after tests found the illness had come back despite previous operations, chemotherapy and radiation treatments. He previously had said in July that tests showed he was cancer-free.
Throughout his treatments in Cuba, Chavez has kept secret some details about his pelvic cancer, including the exact location and type of tumors removed.
Venezuela's government has said Chavez suffered complications during a complicated six-hour surgery, but has since been recovering progressively.
Arreaza said there had been "moments of tension, above all on [December] 11 and 12, but we've overcome them one by one."
"The president has begun to communicate with his close relatives," he said.
Arreaza said that as Chavez began to speak, he told him of "his deep love for his people."
"El Comandante has fought a great battle, and, as he told us, he will overcome each of these moments little by little. He's getting better," Arreaza said.
Chavez also called for his supporters to vote in Venezuela's gubernatorial elections yesterday, Arreaza said.
"He is now completely in full intellectual conditions to send this message to the Venezuela," Arreaza added.
Maduro told Arreaza to give Chavez a message: "Tell him that the people here are on their feet working, battling."
Maduro expressed confidence that Chavez's allies would win the elections.
Maduro also said Venezuelan National Assembly President Diosdado Cabello made a quick trip to Havana on Friday along with Venezuelan Attorney General Cilia Flores and they were in contact with Chavez's family.
"Praying together, we're going to achieve the miracle," Maduro said.
The vice president, whom Chavez recently designated his preferred successor, also repeated his government's condemnation of US President Barack Obama's criticisms last week of "authoritarian policies" in Venezuela.
Maduro called Obama's comments "unacceptable."
Saturday night's ceremony was held on the eighth anniversary of the creation of the leftist Bolivarian Alliance, or ALBA, bloc of nations, which includes Venezuela, Bolivia, Cuba and other nations.
Maduro read aloud a letter from Castro in which he said "the name of Hugo Chavez is admired and respected throughout the world."
The former Cuban president was quoted as writing that "the doctors are fighting with optimism" for Chavez's recovery.
Bolivian President Evo Morales, who attended the event in Caracas, told the television network Telesur that he had not yet been able to travel to Cuba, but that he hoped to meet with Chavez soon. He did not give details.
Comments will be moderated. Keep comments relevant to the article. Remarks containing abusive and obscene language, personal attacks of any kind or promotion will be removed and the user banned. Final decision will be at the discretion of the Taipei Times.