Russia frees rally protesters: police
DANGEROUS DISSENT: Authorities said that because the Moscow rally was unauthorized its participants would face the threat of jail or fines of as much as US$10,000
Russian police said yesterday they had released about 40 people detained during a banned protest against Russian President Vladimir Putin, including opposition leader Alexei Navalny.
Braving freezing cold and the threat of heavy fines, hundreds of people defied the authorities on Saturday to gather at Moscow's Lubyanka Square, the seat of the federal security service, to mark one year since the start of unprecedented anti-Putin protests triggered by fraud-tainted parliamentary polls in December last year.
Police said about 40 people had been detained at the rally, including star anti-corruption blogger Navalny; Sergei Udaltsov, the leader of leftist group the Left Front; Ksenia Sobchak, the daughter of Putin's late mentor Anatoly Sobchak and well-known activist Ilya Yashin.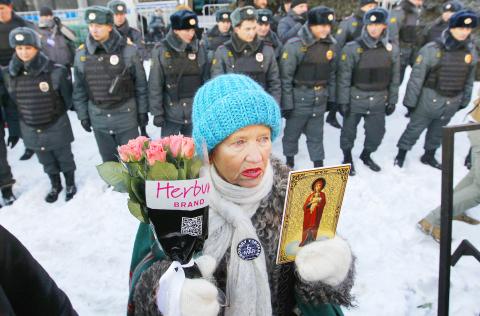 A woman holds an icon and flowers in front of a line of police during an unauthorized protest against Russian President Vladimir Putin in central Moscow on Saturday.
Photo: Reuters
"All those detained have been released," a Moscow police spokesman said yesterday, declining to provide any other details.
The opposition had originally planned a march through the city center, but for the first time since the start of the anti-Putin protests, organizers could not get permission from city authorities. On the eve of the planned event, they urged their supporters to simply show up at Lubyanka Square.
Authorities said that because the rally was unauthorized its participants would face the threat of jail or fines of up to 300,000 rubles (US$9,700), nearly equal to the annual average salary in Russia.
According to police, 700 people showed up, more than 300 of them journalists and bloggers. Participants say a few thousand poured into the square, many with flowers they laid at a monument to victims of Stalin-era purges. Udaltsov said some 5,000 were in attendance.
Observers say the opposition movement is struggling to maintain momentum in the face of the authorities' tough crackdown on dissenters since Putin's return to the Kremlin in May and divisions between liberals, leftists and nationalists.
Up to 120,000 people gathered near the Kremlin walls at the peak of the protests last winter. While some observers said Saturday's rally proved that many people were undeterred by the threat of heavy fines, others called it a disappointment and a blow to the opposition movement.
"The rally was an absolute mistake," political observer Yulia Latynina said on Echo of Moscow radio.
The opposition, she said, had taken unnecessary risks by urging people to show up at the unauthorized rally and was fortunate that the protest had not ended in violent clashes.
Comments will be moderated. Keep comments relevant to the article. Remarks containing abusive and obscene language, personal attacks of any kind or promotion will be removed and the user banned. Final decision will be at the discretion of the Taipei Times.