Chavez recovering after cancer surgery: VP
Venezuelan President Hugo Chavez was recovering in Cuba on Tuesday after an operation targeting an aggressive cancer that has defied multiple treatments and has prompted the socialist leader to name a political successor.
Venezuelan Vice President Nicolas Maduro spoke on Venezuelan television after the surgery, saying that "it's been a complex operation."
He indicated that the surgery lasted more than six hours and said it was completed "correctly and successfully."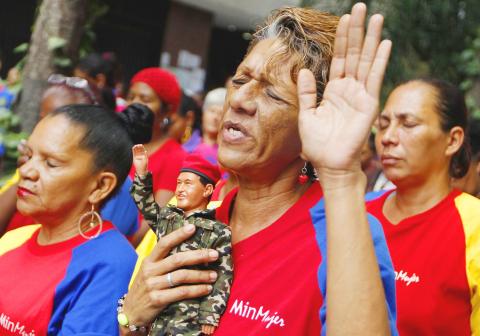 A woman holds a Venezuelan President Hugo Chavez doll, as she attends a Mass to pray for Chavez's health in Caracas on Tuesday.
Photo: Reuters
Maduro, who was designated by the president on Saturday as his preferred political heir, made the announcement in Caracas flanked by other Chavez aides and military commanders. Maduro then led an outdoor vigil where the president's supporters joined hands in prayer and sang along with a recording of Chavez singing the national anthem.
"We've lived through complex moments of tension," Maduro said, without giving details.
It was the fourth cancer-related operation that Chavez has undergone since June last year.
Three days before the surgery, Chavez announced that he needed to have surgery again after tests showed "some malignant cells" had reappeared in the same area of his pelvic region where tumors were previously removed.
Chavez said beforehand that the surgery would present risks. Afterward, Maduro said that Chavez had been moved to a room to recover and begin "special treatments" under the care of a team including medical experts from Venezuela, Cuba and elsewhere.
With Chavez in Havana were his children and grandchildren, as well as political allies including National Assembly President Diosdado Cabello and Venezuelan Oil Minister Rafael Ramirez, Maduro said.
"If there were another life, we'd be loyal and we'd be your soldiers forever," Maduro added.
After he spoke, some of the president's supporters in a Caracas plaza broke into chants of "El Comandante will live."
Supporters held a prayer meeting in downtown Caracas while the surgery was under way, singing hymns.
"We ask God to allow him to live," said Carmen Romero, who participated in the gathering.
Some held up posters of Chavez as they sang.
On the city's streets, Venezuelans on both sides of the country's deep political divide voiced concerns about Chavez's condition and what might happen if he ultimately does not survive his illness.
"It's difficult to think about Venezuela without Chavez," said Rafael Perdomo, a mechanic who has supported the president since 1998, when he first ran for the presidency. "I fear that we, the poor, could lose everything if Chavez dies."
Comments will be moderated. Keep comments relevant to the article. Remarks containing abusive and obscene language, personal attacks of any kind or promotion will be removed and the user banned. Final decision will be at the discretion of the Taipei Times.