Philippines makes emotional appeal on climate change
The lead negotiator of the Philippines broke down in tears at the international climate talks in Doha as he made an emotional appeal for "no more delays, no more excuses" in combating climate change, as he described the plight of his country in the wake of Typhoon Bopha, which has killed more than 500 people.
"Even as we vacillate and procrastinate here, the death toll is rising. There is massive and widespread devastation. Hundreds of thousands of people [are] without homes, and the ordeal is far from over," Naderev Sano said.
"I appeal to leaders from all over the world to open our eyes to the stark reality that we face. The outcome of our work is not about what our political masters want. It is about what is demanded of us by 7 billion people," Sano said.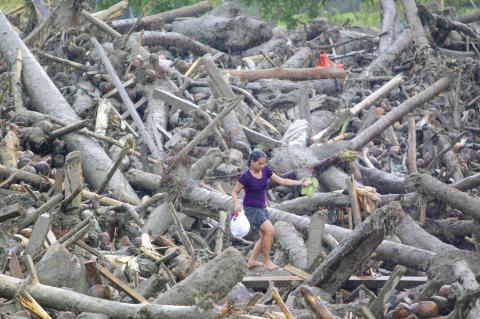 A woman holds a bag of relief goods as she walks among debris swept by floodwaters at the height of Typhoon Bopha, while returning to an evacuation center in New Bataan town in Compostela Valley, southern Philippines, yesterday.
Photo: Reuters
He finished his address with an echo of a phrase used by US President Barack Obama: "I ask of all of us here, if not us, then who? If not now, then when? If not here, then where?"
After his speech, Sano expressed frustration at the lack of funding from rich nations to help developing countries adapt to the changing climate. However, former UN climate chief Yvo de Boer dismissed as "completely unrealistic" calls for US$60 billion in funding.
"It's not going to happen, with developed countries in the financial state they're in. We need to be realistic," said De Boer, who led the UN's climate negotiations from 2006 to 2010.
Finance has been a key issue at the fortnight-long talks. Some poor nations want the industrialized countries to agree to provide US$60 billion as "interim" financing. They say it is needed because although developed countries have pledged to ensure flows of US$100 billion a year by 2020, there is no commitment on how to ramp up to that larger figure.
Industrialized countries with cash-strapped treasuries are unlikely to announce any new money at Doha. Instead, there may be a form of words that commits countries to providing funds in future, without specifying how much.
There have been a few announcements of new funds, particularly from Europe, where the European Commission has committed 500 million euros (US$646.5 million) next year.
The EU has pledged 6.85 billion euros in funds for next year and 2014. The UK announced it was providing £2.9 billion (US$4.66 billion).
Comments will be moderated. Keep comments relevant to the article. Remarks containing abusive and obscene language, personal attacks of any kind or promotion will be removed and the user banned. Final decision will be at the discretion of the Taipei Times.