Powerful typhoon nears Philippines
A powerful typhoon barreled toward the Philippines yesterday, prompting authorities to order the immediate evacuation of thousands of people from coastal and low-lying areas, officials said.
Typhoon Bopha, packing winds of up to 210kph, is expected to hit a fishing village in Mindanao overnight, making it the strongest typhoon to slam the Philippines this year.
The mayor of Hinatuan, in Surigao del Sur, has urged local people to prepare for the worst, ordering those living along the coast, flood-prone river valleys, as well as tiny islands off the village, to move to government shelters.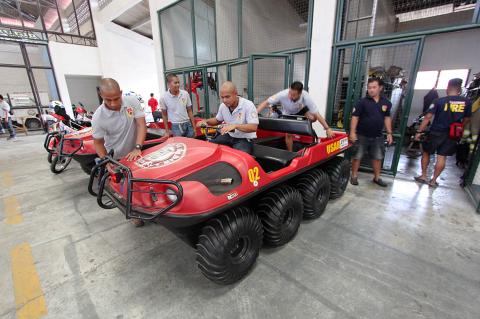 Rescuers prepare their equipment in Davao City on the Philippine island of Mindanao yesterday, in anticipation of Typhoon Bopha, which is expected to hit the southern Philippines overnight.
Photo: AFP
"There is no rain yet but they might start experiencing rain tonight. This will be the strongest typhoon this year," warned Edgardo Ollet, director of the civil defense office in Manila.
The weather service said Bopha was expected to bring "intense to heavy rainfall" over Hinatuan and surrounding areas as well as the central Philippine islands.
As of 2am GMT, the center of the typhoon was 550km southeast of Hinatuan, it said.
Authorities have been stockpiling food and rescue equipment, with military and coast guard personnel deployed in vulnerable areas amid fears the typhoon could trigger landslides and floods.
Comments will be moderated. Keep comments relevant to the article. Remarks containing abusive and obscene language, personal attacks of any kind or promotion will be removed and the user banned. Final decision will be at the discretion of the Taipei Times.