Hungarian MP blasted over call for survey of Jews
The Hungarian government and Jewish leaders have roundly condemned a politician who called for a survey of Jewish people who might pose a "national security risk," accusing him of fearmongering in a country still struggling with the legacy of the Holocaust.
In comments deemed extreme even for his rabble-rousing far-right party Jobbik, Marton Gyongyosi on Monday urged authorities to "tally up" the number of Jews in Hungary, especially those in parliament and government.
Such an exercise was "timely" given the conflict raging in the Middle East, he said.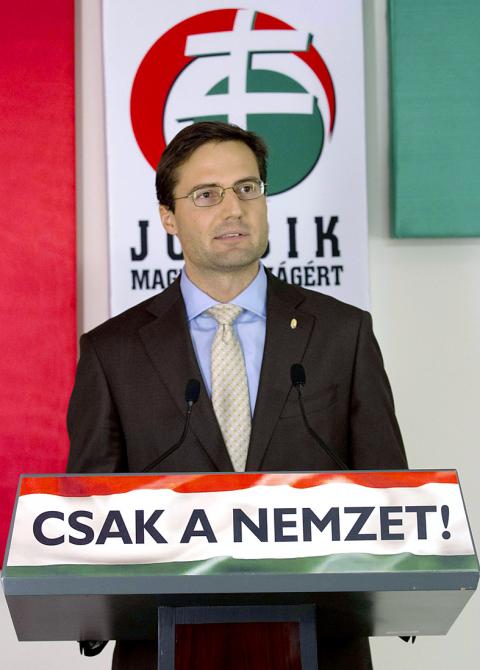 Jobbik Party deputy leader Marton Gyongyosi speaks at a news conference in Budapest, Hungary, on Tuesday.
Photo: Reuters
The government denounced the remarks, made in an address to parliament.
It said it "strictly rejects extremist, racist, anti-Semitic voices of any kind and does everything to suppress such voices."
Jewish groups reacted with horror and incredulity at the comments, which they said brought back echoes of a dark past.
"I am a Holocaust survivor," Hungarian Jewish Congregations' Association executive director Gusztav Zoltai said. "For people like me this generates raw fear, even though it is clear that this only serves political ends. This is the shame of Europe, the shame of the world."
Jobbik, of which Gyongyosi is deputy parliamentary group leader, is the third-largest political movement in Hungary, holding more than 40 of 386 seats in parliament. Critics say its MPs have made a string of anti-Semitic, anti-Roma and homophobic remarks, but the party has never made a public appeal for a survey of Hungarian Jews.
"I know how many people with Hungarian ancestry live in Israel, and how many Israeli Jews live in Hungary," Gyongyosi told parliament, according to a video. "I think such a conflict makes it timely to tally up people of Jewish ancestry who live here, especially in the Hungarian parliament and the Hungarian government, who, indeed, pose a national security risk to Hungary."
On Tuesday, Gyongyosi said he was sorry for making comments which "could be misunderstood."
He said he was referring to people with dual Israeli-Hungarian citizenship.
The apology is unlikely to reassure those profoundly disturbed by his earlier comments.
"Jobbik has moved from representing medieval superstition [of blood libel] to openly Nazi ideologies," wrote Slomo Koves, chief rabbi of the Unified Hungarian Jewish Congregation.
Comments will be moderated. Keep comments relevant to the article. Remarks containing abusive and obscene language, personal attacks of any kind or promotion will be removed and the user banned. Final decision will be at the discretion of the Taipei Times.